Infusing Your Home With Personality: Tips for Truly Making Your Home Your Own
At every turn, this Aspen home surprises and delights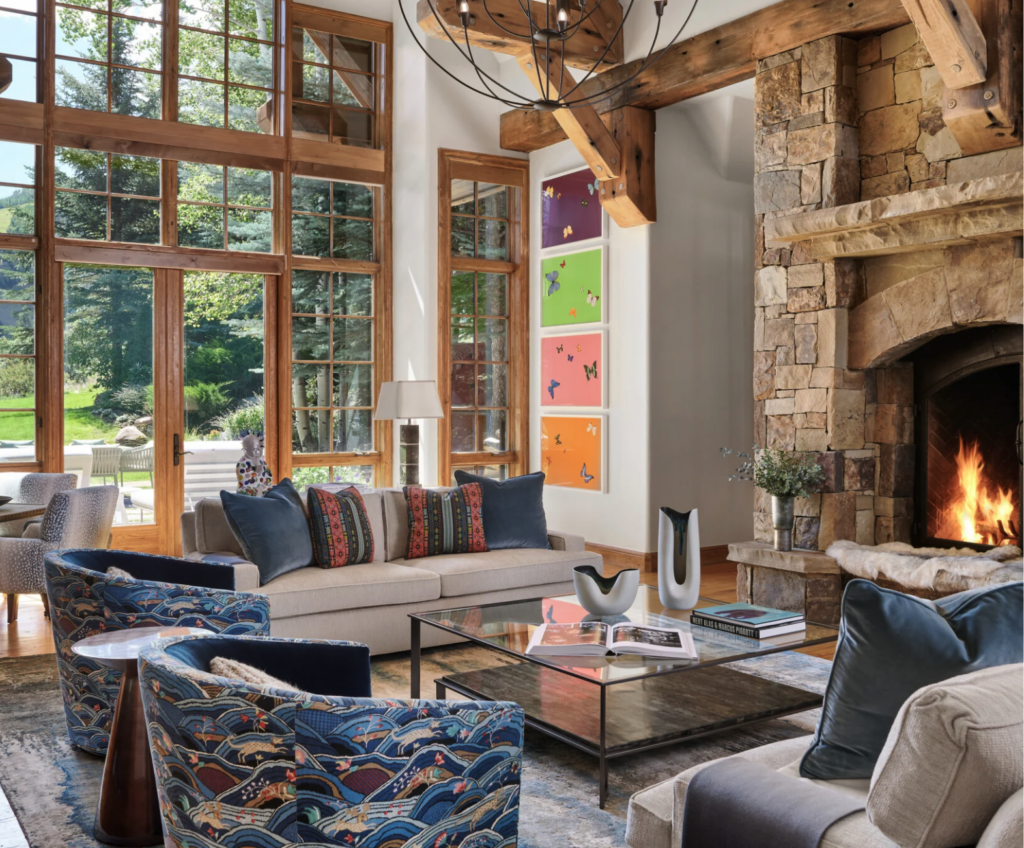 Sponsored Content
An interior designer's goal is always for their client, when they walk into their home, to feel warmth, comfort, and joy. That's precisely the result that was achieved with this Aspen renovation project. Thoughtful design among curated art gives this stunning home character and a memorable aesthetic. Read on to find out how the Cathers Home design team transformed this home into a one-of-a-kind getaway.
Your Home Reflects Your Unique Story
How a home is designed is a true reflection of both the resident's personality and their still unfolding story. This includes the combination of old and new, whether it be a piece of furniture that makes you proud that you took that leap of faith to purchase, or family heirlooms with a history (perhaps a story to pair with a post-dinner coffee or cocktail).
Mountain Whimsical
The rustic architecture of this home, with stunning ski-in, ski-out views, features unexpectedly vibrant interiors which add an element of playful, whimsy and reflect the homeowner's unique style. Every room has an element of nature incorporated into the design, such as mountain creatures or aspen trees staying true to location. The outdoor spaces reflect a woodland sanctuary, quiet and peaceful, away from the rest of the world.
Boldly Blending Pattern and Color
The Cathers Home interior design team used bright patterns and color to complement the collections of magnificent art from local galleries displayed throughout the residence. In the living room, a colorful scenic fabric from Schumacher wraps around the backside of a chair softened on the front side by a solid blue mohair fabric as a statement to be seen from all directions of the room.
To disperse the energetic patterns and bold art in this space, the designers paired quiet, calming textiles of blue plaid, an ombre alpaca throw by Rosemary Hallgarten, and boucle & fur lumbar pillows. The same play on pattern and color combination is used in the breakfast nook with muted, timeless plaid chairs pulling the colors together from the bench cushion and patterned throw pillows.
Wallpaper as the Focal Point in a Room
Statement wall coverings and timeless plaid patterns in the bedrooms, bathrooms, and laundry room give this home new life with artistic flair. Aspen trees on all walls of the bunk room brings the woodland whimsy inside and make it feel as though you're sleeping outside in a forest. The reflection of nature is continued throughout the powder baths with sparks of color in patterned paper paired with a braided leather mirror to balance feminine and masculine elements.
Creating a cohesive blend of pattern, color, and texture throughout a home brings out the homeowner's unique personality and shares their story.
Preethi Rajaratnam and Amanda Furlong are Senior Interior Designers at Cathers Home Furniture + Interior Design, an Aspen, Colorado-based full-service interior architecture and design studio, home furnishings retail store and rug gallery. View their profile or contact Cathers Home at info@cathershome.com and 970-927-6556.
Content for this article provided by Cathers Home Furniture + Interior Design.