Focus On: Creede America
A silver boomtown's historical architecture provides the inspiration for a new neighborhood of simple, small and stylish homes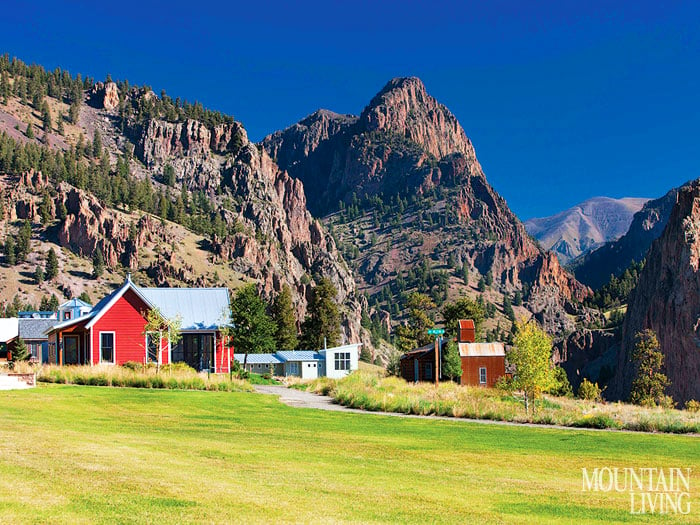 Between 1889 and 1891, thousands of miners journeyed to the tiny southern Colorado town of Creede in search of fortune. They hastily built their homes and headed into the hills, where they found some of the richest silver-bearing veins in the state. But their timing was poor. In 1893, the silver market crashed and the population of Creede soon dwindled. 
What remained, however, in addition to tales of outlaws and gunfights, was a style of building Creede resident and developer Avery Augur calls "Victorian minimalism": traditional Victorian forms that lack the ornament adorning the homes of Colorado's older mining towns like Aspen, Telluride and Central City. It's this pared-down Victorian style that inspires the dwellings Augur, who has a master's degree in architecture, and architects Jaimi Baer, Mark DuBois and Keith Loftin have created at Creede America, a neighborhood Augur first envisioned nine years ago when he purchased a 45-acre parcel of land on a mesa just above town.
"The entire eastern boundary of the property adjoined the western edge of the original 1892 plat of the city of Creede," he says, "so it was an opportunity to grow the town."
Creede America's first phase consists of 30 lots, ranging from 5,000 square feet to about half an acre and priced from $95,000 to $160,000. The second phase will include 40 lots and a commercial space for a hotel and restaurant. While just 11 homes have been built to date, the eclectic mix of residences—which range from a beetlekill-pine-clad cabin to a galvanized-steel silo—showcases Augur's devotion to simplicity of form and materials. 
With floor plans ranging from 850 to 3,000 square feet, homes here are unified by their scale. And while there's an inherent sustainability in building small homes on small lots, Augur says that scale also helps create a sense of community. "This is about building a neighborhood, not a subdivision," he says, "and density fosters that. Everything is walkable, and public space is a big part of our plan."
Creede America's centerpiece is a painstakingly restored old church that will soon be available to residents for everything from weddings to musical performances. Just outside it is a community park with a quarter-mile trail that winds 300 feet down into town. But what's got Augur most excited is plans for a landscape around the church designed by none other than Kathryn Gustafson, whose credits include the Lurie Garden in Chicago's Millennium Park and the Diana, Princess of Wales Memorial Fountain, and who just happens to be pals with Creede America's project architect Jaimi Baer.  
It's a big vision for such a small town, and carrying it out is a responsibility Augur takes seriously. "Whatever 'authentic' is anymore, that's what I feel Creede is," he says, "and what we do here will set the tone for the future of this town." creedeamerica.com
When in Creede
Surrounded by the sheer cliffs of the San Juan Mountains, Creede is "out of the range of the weekend warriors," says resident and Creede America founder Avery Augur. "You've gotta want it to come to Creede." Here, he shares the town's best-kept secrets:
CREEDE REPERTORY THEATRE  "This professional theatre company has been Creede's major draw for the past 50 years. I wasn't a theater guy before I got here, but that's what's so cool about CRT. It's bringing theater to a new audience and doing it in a really far-out place." May-September, creederep.org 
RARE THINGS GALLERY  "Jenny Inge, who has run this gallery for 40-some years, makes braided horsehair jewelry that's just amazing. You'll find her work here, along with that of a wide range of other artists." rarethingsgallery.com
ANTLERS RIO GRANDE LODGE "Just 5 miles west of town, this is a great place to stay with a fabulous restaurant. You can sit right on the Rio Grande River and have dinner." antlerslodge.com   
FREEMON'S GENERAL STORE "It's just a 15-minute drive upriver and is home to the world's greatest cheeseburgers." 719-658-2454
QUILLER GALLERY "Stephen Quiller is an internationally known watercolor artist who has lived and painted in southern Colorado for more than 30 years. His gallery is right on Main Street." quillergallery.com
4UR RANCH This "really, really fabulous dude ranch" offers laid-back luxury and activities of every speed, from hot-spring soaking to river rafting. 4urranch.com