Closets: From Drab to Fab
These organization spaces are finally getting the respect they deserve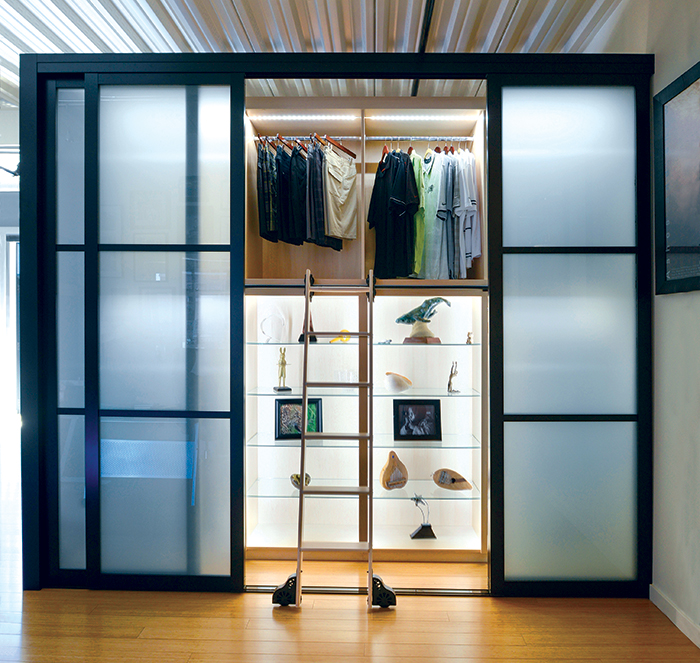 Call it feng shui or the result of Marie Kondo's The Life-Changing Magic of Tidying Up, but homeowners are realizing the importance of a well-organized closet.
An optimal closet can promote contentment and calm (and a messy closet can make life feel chaotic). Ultimately, you want to treat your closet like a room—and plan the design.
"The often-ignored path to an organized life goes through your closet," says Lynne Barton Bier, principal/lead designer at Home on the Range Interiors in Steamboat Springs, Colorado. When tackling a closet makeover, Bier starts with the lighting. Recessed lights "create shadows and don't give enough light to really see your clothes." Bier recommends surface-mounted lighting and LED strips. Of course, adding a chandelier or decorative pendant lamp can turn a closet into a room of its own.

Closet rods at different heights maximize space for hanging clothes while open shelves accommodate objects large and small, from handbags to extra pillows.
Experts can help streamline the process with their experience. Polly B. Lestikow, president of Closet Factory in Centennial, Colorado, explains a common error: "Installing a bar next to another bar in corners makes hangers crash into each other, which rumples clothes." Another issue that's easily overlooked is placing shoes below clothes—where they can virtually disappear.
Bier and Lestikow agree that closet style goes beyond the storage. The closet can be designed—just like any other room in the home. From area rugs to chandeliers, occasional tables to lounge chairs—all of these and more can do double duty in the closet. Design elements offer a place to sit while you put on your shoes or a surface to lay out your jewelry, but they also add style.
Think of the closet as a style opportunity, both for your home and for yourself. In fact, the closet can be a great place to try out a daring color or unique wallpaper. If it's chic and cohesive, the closet can seem like a boutique shopping experience. In a well-organized store, everything is easily accessible, so consider storing a slim step stool or adding a built-in ladder in your home closet. This keeps anything up high within reach.
You start each day with a trip to the closet. It makes sense to give the space more attention. Get dressed in a fashionable space and get ready for a beautiful day.SaveSave