Claire Brewster's Flights of Fancy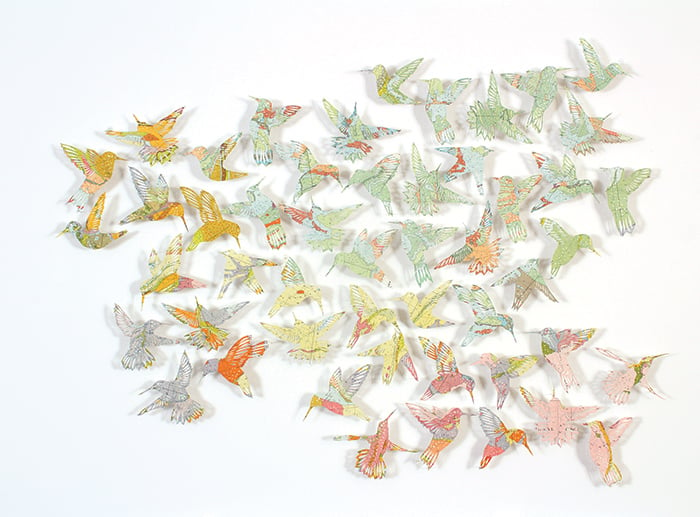 ALL THINGS ARE IMPERMANENT
Soil survey map, Uinta County
32 x 45 inches
Diehlgallery.com
Clairebrewster.com
THE ARTIST: Claire Brewster
KNOWN FOR: Exquisitely delicate paper sculptures of flora and fauna, cut from vintage maps.
INSPIRATION: "I am particularly inspired by nature in the urban environment. Ironically, now that I live in central London I feel more surrounded by birds than I ever did in the country. I'm most interested in capturing birds mid-flight—the essence of their movement—so they look natural. When someone looks at it they see more than a bird; they can tell the specific breed of bird and its personality."
ON BIRDS AND BOUNDARIES: "I think of birds as symbols of innocence and freedom and I like that they have no boundaries or borders, unlike the maps that I cut them from. I source my maps from all over the place, and am always on the lookout. I regularly go on special pilgrimages to find maps—there's nothing like the thrill of going through a pile of old maps in a junk shop and finding a gem."
CUT AND PLACE: "I start with drawing. I create a template, which I stick onto the back of the map I'm going to use. Once I've cut all the pieces out (I use a scalpel-like knife), I then start to arrange them. Sometimes this happens quickly, other times I spend hours moving birds around until I'm satisfied."
LIGHT AND LIFE: "Shadows help to create the illusion of movement and add depth. I like that my work is somewhere between 2D and 3D: Trying to capture the movement and life of nature in a 2D medium like paper might seem impossible, but the simple act of raising the paper cuts onto pins breathes life into the paper."
ON VIEW: Diehl Gallery, Jackson, Wyoming.