Bunk Room Style
Today's bunk rooms have evolved from the dormitory-style bunks of the past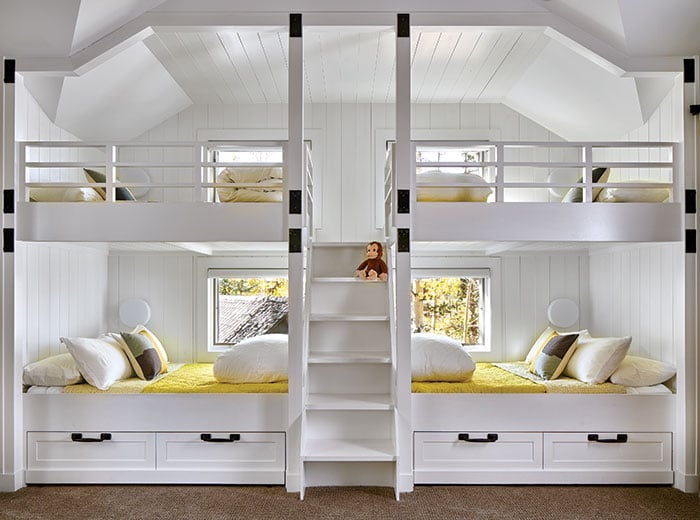 Including a bunk room is a convenient and space-saving way of getting extra sleep-and-relaxation space in a home. While the idea of climbing a ladder to the top bunk might remind you of summer camp, the plans architects and interior designers are coming up with are a far cry from the dormitory-style bunk rooms of the past.
Sleek built-in beds, luxurious linens, bookshelves, lamps and charging ports for electronic devices are among the things that take modern bunking to the next level.
Abby Hetherington, who has an interior design firm in Bozeman, Montana, created just such a sophisticated spot that appeals to the young adult members of a client's family. "It should be a privilege to be in the bunk room," she says.
The four bunk rooms featured here show how bunk rooms are anything but basic these days.
TRUE BLUE

Photo by David O. Marlow
To make sure everyone in their large extended family could converge on their Montana getaway and have a place to sleep, a couple had their architect include four master suites, a junior suite and a bunk room in the plans. Playing off the home's modern rustic aesthetic, interior designer Abby Hetherington had the reclaimed wood bunks painted in Benjamin Moore's Calypso Blue.
The beds are full-sized to accommodate adults; other grown-up choices were the custom linen headboards by C&C Milano and Coyuchi bedding. The bunks feature reading lights, shelves for books and outlets for electronic devices. "We wanted it to be a fun, unique space where people could have their own zones," the designer says, adding that it was designed as much for the family's older members as for their four grandkids. The stool with a fringed leather seat is by furniture maker Doug Nordberg of North Mountain Gallery in Cody, Wyoming.
ARCHITECT: Miller-Roodell Architects
INTERIOR DESIGN: Abby Hetherington
ANIMAL INSTINCTS

Photo by Audrey Hall
Animal appreciation was the theme in a home built for a veterinarian, her investment banker husband and their three young children at Yellowstone Club in Big Sky, Montana. So it was only fitting that the kids' bunk room would play up the motif. Faced in weathered gray-and-brown corral board with a wire-wheel finish, the four built-in bunks have a steel railing and staircase between them.
Lining the bottom bunk headboards is shearling, adding an element of luxury and warmth (as well as cushioning if a guest happens to bump his head in the night). Making the space a fun place to play as well as sleep, there are plenty of books and games in the polar bear bookcase and baskets to corral toys. The animal motif also plays out on the curtains and bed linens. The bunk room is adjacent to a recreation room, which the children will use more as they grow.
ARCHITECT: Brechbuhler Architects PLC
INTERIOR DESIGN: Rain Houser, Urbain Home
PLAYING HOUSE

Photo by James Ray Spahn
A whimsical bunk room is one of the many personal elements Ann and Bill Coburn put in the home they built on their ranch south of Crested Butte, Colorado. They designed the residence with wings for various family members. For their daughter and son-in-law, one suite was originally designed as a big bedroom and closet, but they altered the plans in order to carve out a bunk room within the space for the couple's two young children.
"We had it built with a little roof and windows," Ann says of the pine structure, which has twin beds, a bookshelf and interior lighting. Wall decals lend a nature theme. "It's sweet and childlike and surprising, totally different from the rest of the house, which is very contemporary," she says. It's a comfortable and cozy retreat for her now four-year-old grandson. "He gets in there and it's his own private kingdom where he sets up his Legos and forts and Lincoln Logs."
ARCHITECT: Peter Weber, Coburn Partners
INTERIOR DESIGN: Ann Coburn
BEAUCOUP BEDS

Photo by David Patterson
For their four children, friends and extended family, a couple envisioned not one but two bunk rooms in their Grand Lake, Colorado, home. Divided by a sliding door, the "his" and "hers" rooms can be opened for play space and closed for privacy. The bunks were designed by Tenaya McCullough of Bryan Pulte Interiors and architect Jim Fisher. Furniture maker Ryan Schlaefer constructed them in his Longmont, Colorado, studio, disassembled them and rebuilt them on-site at the property.
Each bunk room has two sets of queen beds, with one set featuring custom trundle beds built in at the base. The staircase between the bunks is extra deep so books can be put in the sides of the risers. Windows offer views of the lakeside property while also having blackout shades that can be pulled down for sleeping. Painted white with yellow accents, the space is great for children; with a change of linens it will also function for teens or adults.
ARCHITECT: Vertical Arts
INTERIOR DESIGN: Tenaya McCullough, Bryan Pulte Interiors
CONSTRUCTION: Ryan Schlaefer

Photo by Audrey Hall
BUNK ROOM CHECKLIST
Planning a bunk room? Here are some things designers and architects recommend thinking about.
SIZE MATTERS Along with figuring out how many bunks to include, decide what size to make the mattresses. Full- and even queen-size beds are popular, as are extra-long twins. Custom mattresses are also an option. For one of her projects, interior designer Tenaya McCullough had Boulder, Colorado-based Verlo make the mattresses for trundle beds she had built into the base of a set of bunks.
BUILT-IN VERSUS FREESTANDING BUNKS It costs more, but having bunks custom designed and attached to walls will lend a richer, more finished look to a room than free-floating beds. You'll also be able to carve out storage space below the lower bunk and create designs with staircases and shelving.
LIGHTS AND POWER Reading lights and electrical outlets help make a bunk room more livable. Plan for the type of wiring you'll need.
SAFETY Railings and ladders need to be sturdy enough for the type of occupant the bunk will accommodate: children, teens or adults.
BE FLEXIBLE While bunk rooms are often built with kids in mind, those children grow up. If you keep the overall design simple, a change of linens, pillows and accessories can take the space from childlike to sophisticated.
As seen in the August 2019 issue