An Interior Designer's Colorful Jackson Home
This farmhouse with a twist is filled with cool surprises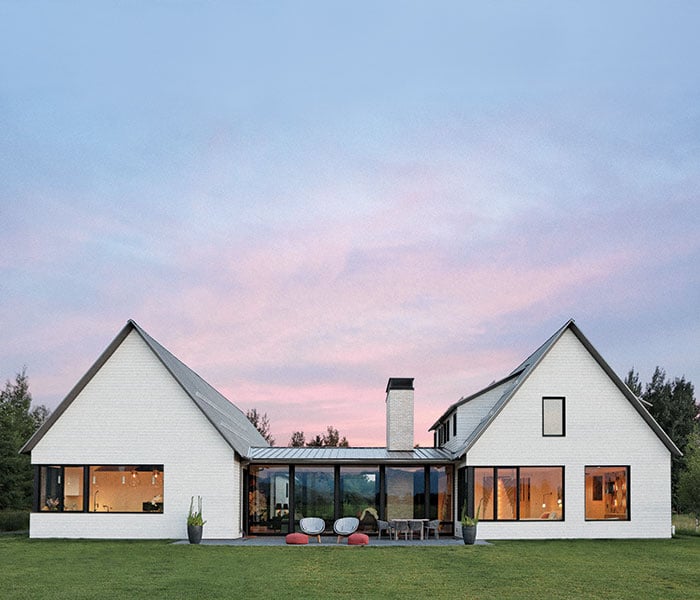 Jennifer Visosky may be a Wyoming native, but that doesn't mean she's run-of-the-rustic-mill. After spending years working in Los Angeles, she returned to Jackson with a fresh perspective on traditional, timber-heavy mountain design. "People kept saying, 'Well, this is Wyoming; this is the mountains; this is what people love,'" she recalls. "And in my mind, the push-back was, 'Well, that's not my Wyoming, that's not my mountain experience.'"

Jen Visosky added "surprise and power" to her dining room with Ellie Cashman's Dark Floral XXL wallpaper, an Eos goose feather pendant, and wingback and thin frame chairs from Lawson-Fenning.
So, once she launched her own interior design studio, Frame Design Co. (formerly Grace Home Design), Jen encouraged her clients to consider a new approach: "A lighter aesthetic, that's more representative of how they feel in the mountains, rather than needing to be protected from them," as she explains. And when Jen and her husband, Dan, a realtor, began dreaming of building a home to share with their two young daughters, a simple vision began to take shape—a farmhouse with a twist.

The Visoskys' farmhouse has a decidedly contemporary sensibility.
After patiently waiting for the perfect building site to become available—with knock-out, unobstructed views of the Tetons—Jen selected her team. She had experience working with her friend Craig Olivieri, of Jackson Hole Contracting, on various earlier projects, so he was an easy choice. As luck would have it, Olivieri also happened to know the perfect architects for the job: Matt Byers and Mark Stankey, co-principals of Minnesota-based PLAAD. Byers and Stankey shared Jen's passion for the farmhouse building type, but with a decidedly contemporary sensibility.

Jen calls the chicken tiles from Imola Ceramica a "cool spoof" on a farmhouse kitchen, with Tim pendants by Bomma, and Kyle Bunting upholstered Lawson Fenning stools.
"The modern farmhouse is a very popular style right now," Byers says. "People are drawn to it because it's familiar; it's what they nostalgically remember even if they've never lived in one." Although Jen wasn't interested in a folksy pastiche, she loved the idea of a big white farmhouse with the kitchen as a gathering space. "She made it pretty clear that she wanted to do something new and fresh and different," says Stankey.

A neon sign by Michele Varian adds light (and love) to the stairway.
The architects' solution is beautifully simple. "The house is really set up as two farmhouses that bookend this very transparent and open-feeling room that is meant to have the least amount of architecture between you and the Grand Tetons," Stankey explains. A brick chimney provides a central vertical accent—what Stankey jokingly refers to as "the toothpick in the sandwich to hold it all together." The home's crisp, pure forms create an especially striking contrast with the rugged mountain background. Jen loves the drama of the steep rooflines: "There's severity in the pitch, with a very calm, grounded base," she notes.

Thorton, by Kollabs, reigns over the living room beside a Nuvola armchair from Gervasoni.
"It feels kind, and soft, and livable." —homeowner Dan Visosky

"Mark and Myles," by Sarah Hillock, hangs above the master bed, with a Mohawk nightstand by Michael Robbins and a Simple Light fixture by Michele Varian.
And while the home is clean-lined and calm outside, it gets lively and fun once you step inside the swanky front door, thanks to Jen's cheeky and colorful interiors. After the architects set the stage, by varying ceiling heights to create diverse spaces illuminated by extra-large windows, Jen gleefully took the design ball and ran with it. The rooms have surprising contrasts and exciting energy, decked out in bold patterns and zingy colors, with often unexpected furniture choices.

Chevron details enliven a sliding door.
Fortunately, Dan trusts her design instincts, no matter how eccentric they may sometimes be. "He was gracious to say, 'Just give me the garage and a giant storage space above it,'" she explains with a laugh. And he even loves all the blazes of pink throughout the house, according to Jen. "He said, 'It does not feel feminine to me; it feels kind, and soft, and livable.'"

The guest bath goes wild with jazzy Clé tiles and illusionistic wallpaper by Wall&deco.
Indeed, the simple farmhouse full of playful surprises and edgy contrasts is a perfect fit for Jen and her family. "I hope people feel embraced when they visit my home," she says. And Byers agrees. "The house feels good," he concludes. "Like your favorite comfortable pair of jeans."

Jen declares her master bath "a labor of love," for which she devised a complicated extravaganza of Clé tiles, complemented by Lucent Oval Mirrors from Restoration Hardware and custom sconces by Michele Varian.
TILE-A-PALOOZA
Jen Visosky isn't shy about letting tile do the talking. Her bold choices add punch and personality to walls and floors in surprising ways. Here, she shares her wit and wisdom:
LIGHTEN UP "Have a sense of humor! I laughed out loud the first time I saw the 'Chicks.' I knew I had to have them because their expressions reminded me of marriage and how my husband and I sometimes look at each other." MIX IT UP "Tile can be an unexpected way to show off your personality, so mix it up! Weave patterns, try a graphic print with an off-beat color, or add wallpaper." CALM IS COOL "My master bathroom is a serene space and the opposite of boring: It has a killer view of the Grand Teton and layers of lighting—it also has 1,300 hexagon tiles in eight colors. I selected shades that work beautifully together and placed them individually across the floor and the walls."

The crisp lines and clean silhouette of the newfangled farmhouse make a fresh backdrop for outdoor furnishings from Denmark's Cane-line—designed with simple, curvy shapes and playful colors that echo the aesthetic of the home's interiors.
DESIGN DETAILS
ARCHITECTURE PLAAD INTERIOR DESIGN Frame Design Co. CONSTRUCTION Jackson Hole Contracting
RESOURCES
ARTWORK "Thorton" by Kollabs from Diehl Gallery | "Mark and Myles" by Sarah Hillock from Diehl Gallery FURNISHINGS TIM PENDANTS from Bomma ELYSIAN BAR STOOLS Lawson-Fenning FABRIC Kyle Bunting Hyde in Gum CABINETRY D&E Custom Cabinets BUTTERFLY HARDWARE Superfront LIVING ROOM NUVOLA ARMCHAIR by Gervasoni from Imoderni QUINDE COFFEE TABLE Lumifer CUSTOM MOROCCAN RUG David E Adler VELVET SWIVEL CHAIR & OTTOMAN 1stDibs MOHAWK CREDENZA Michael Robbins CUSTOM SECTIONAL Artistic Frame FABRIC Romo Black Edition Musa Agate from Town Studio DINING ROOM HIGHLAND WINGBACK CHAIRS Lawson Fenning FABRIC Mokum Water Lily from John Brooks THIN FRAME DINING CHAIRS Lawson Fenning FABRIC Holland & Sherry Baudelaire, Navy from John Brooks XXL DARK FLORAL WALLPAPER Ellie Cashman Design GUEST BATHROOM WALLPAPER Wall & Deco from Imoderni BRISTOL WALL MIRROR Restoration Hardware MASTER BATHROOM TILE Clé (designer's own pattern) VANITY LIGHTS Michele Varian LUCENT OVAL MIRROR Restoration Hardware MASTER BEDROOM SIMPLE LIGHT FIXTURE Michele Varian MOHAWK NIGHTSTAND Michael Robbins HEADBOARD FABRIC Cowtan & Tout from Egg & Dart LEGS TO BED Pretty Pegs PATIO Moments Dining Chair, Peacock Lounge Chair, Divine Footstool from Cane Line.