An Eco-Friendly Vacation Home in Park City
This home built into the Park City mountainside maximizes space and views while minimizing its ecological footprint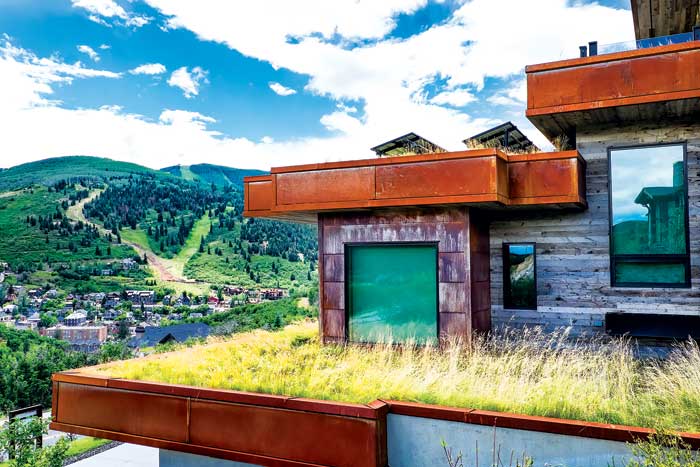 Built into the mountainside overlooking Park City, Utah, this 6,600-square-foot home is a study in contrasts. It's contemporary in style, yet inherently tied to—and reliant on—its rugged alpine location. It's substantial in size, yet tremendously energy efficient. So how does a dwelling with so many contradictory elements successfully harmonize form and function? With one key design tactic: balance.
The angular structure climbs the sloping site in half stories, with native grasses swaying from its flat roofs that mimic natural outcroppings of the rugged terrain. Sandstone, weathered wood and Cor-Ten steel wrap the exterior—all nods to the old mining buildings that still dot the local landscape.
"I feel that we have a responsibility to connect the home to its surroundings," architect Costantino Grandjacquet says. "Some people say that if you do a contemporary home, it doesn't connect to the mountains, but if you use the right materials, it works."
Inside the house, stone and wood again feature prominently. Three imposing sandstone walls run the length of the home, anchoring the living spaces around a fortress-like stairwell that's flooded with natural light. Weathered wood cocoons another stairwell in the entryway, where floor-to-ceiling windows frame views of Park City's ski runs.
Throughout the home, ultra-efficient triple-glazed windows have been strategically placed to capture the expansive vistas. In the living room, glass doors can be tucked away to open one corner of the room to the deck outside, and the 1960s-inspired, suspended Gyrofocus fireplace can be rotated to face outward, allowing for seamless indoor-outdoor entertaining. In the kitchen, a long, low window is cleverly cut into the stone wall at just the right height to allow diners seated at the counter to gaze at the treetops rather than the neighboring townhouses. This home is a mountain escape for a city-dweller, after all, and the homeowner wanted the house to offer a sense of seclusion.
Another design requirement: the home's interiors would need to reflect the owner's European sensibility. "Our client lives in Chicago and he's originally from the United Kingdom, and he didn't want 'mountain contemporary.' He wanted a truly contemporary home," says interior designer James Dolenc.
Dolenc worked with Grandjacquet, design partner Thomas Riker and builder Andrew Parker to install finishes befitting the homeowner's tastes, including concrete floors and rift-cut white oak doors. Dolenc and Riker then painted the walls white and added subtle floor coverings and upholstery. "The wood and the stone are such strong elements in this house that everything else needed to be quiet and minimal," Riker says—save for a few bold works of art, eye-catching light fixtures and a gem-like purple velvet couch.
"This is a house of contrasts," Riker says. "We were able to give the homeowner the contemporary home that he wanted by choosing the furniture independently of the mountain setting." The Franco Albini-designed shaggy wool chair in the master bedroom, for example, might be mountain-appropriate, but the designers would just as readily place it in a home in Los Angeles.
While its square footage and abundance of windows might suggest otherwise, the home is very energy efficient, with thick, well-insulated walls and those "green roofs" planted with native grasses, which create thermal mass to help regulate temperatures in winter and summer. A photovoltaic system harnesses the sun's rays to power the home and provide domestic hot water. "Only three months out of the past year did the house use more power than it produced," Parker says. "It's almost net zero."
As in nature, the design of this dwelling relies on a careful balance—its contemporary corners softened by swaying grasses, its concrete floors warmed by tufted wool. Every element has a complementary accent, creating a domestic ecosystem in which artful and energy-efficient living harmonize.
In the dining room, a weighty stacked-spindle table base by Minotti is juxtaposed with a bubbly Modo chandelier from Roll & Hill. To preserve the structure's tight thermal envelope, architect Costantino Grandjacquet and builder Andrew Parker mounted can lights, speakers and sprinkler heads on dropped ceiling panels rather
than cutting into the actual mass of the roof.
The home's open-concept living area is intended for casual summer evening get-togethers or après-ski entertaining. "The homeowner will invite 11 guys out to Park City for a
ski weekend, and his vision for this room was a natural hangout space," interior designer Thomas Riker says.
A purple velvet couch by Ligne Roset, a Gyrofocus hearth and three-dimensional artwork by Jim Lambie infuse the living room with energy. "We didn't add a ton of furniture and we kept the pops of color to a minimum," Riker says.
Facing due south, the living spaces are situated on the top floors to maximize views and sun exposure. Solar panels set back from the edge of the roof can't be seen from the street.
Rift-cut white oak cabinets outfit the contemporary kitchen and offset the rugged stone wall. Fjord bar
stools from Moroso echo the living room's purple accents. A secondary island creates separation between the kitchen and dining spaces while providing a handy buffet.
Futuristic Halfpipe sconces from Boyd Lighting and the floating, stainless-steel Bee shelf with drawer from Niedermaier bring a more human scale to the airy entryway.
Creating a dramatic contrast with the rugged stone walls, three Moooi chandeliers "march down the stairs," interior designer James Dolenc says.
Custom ombre wool drapes from Opuzen create a cozy look in this top-floor guest bedroom. A pair of aluminum side tables from Luminaire are sleek and symmetrical.
The home's structure might be contemporary, but weathered wood, Wyoming sandstone and Cor-Ten steel have deep roots in Park City.
DESIGN DETAILS
ARCHITECTURE: Constantino GrandJacquet, SUMMA ARS PLLC, Park City, Utah, 435-655-3811. INTERIOR DESIGN: Tom Riker and James Dolenc, JamesThomas Chicago, Chicago, IL, 312-738-7300. CONSTRUCTION: Andrew Parker Construction, Park City, Utah, 435-649-4266. HVAC/ RADIANT/ HYDRONIC SOLAR: Jason Pace, Ponds Plumbing and Heating, Park City, Utah, 801-203-3526. ELECTRICAL: Mark Chesley, Chesley Electric, Park City, Utah, 435-655-0382. ROOFING: Craig Peters, North Face Roofing, Park City, Utah, 435-214-7656.