An 80s-Style Condo Gets a Modern Makeover
This slope-side space in Steamboat Springs went from "mountain-hunting-lodge chic" to true mountain modern.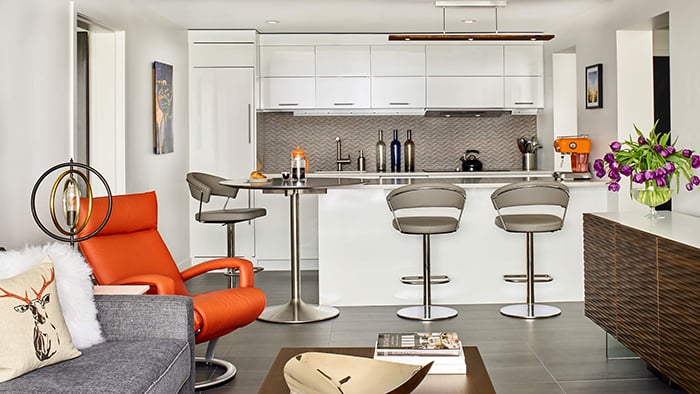 When these homeowners purchased their Bronze Tree condo in Steamboat Springs in 2006, it was as close as you can get to their dream home. The top-floor unit offers breathtaking panoramic views of the surrounding ski area, the Flat Tops Wilderness, and beyond. Its location is close enough to the mountain for skiing and removed enough to enjoy some peace and quiet after a day on the slopes. The only thing this cozy space was missing was an interior that matched the current decade.
Described by the homeowner as "80s mountain-hunting-lodge chic," the condo's original look involved oak cabinetry, popcorn ceilings, and a color palette that left a lot to desired—think pink countertops and hunter-green carpet.
A few years into settling for their condo's old furnishings and fixtures, the homeowners found themselves dedicating an entire vacation day to fixing an old toilet. Enough was enough; it was time to transform their hunting lodge to the mountain-modern home they always wanted.
The existing space was compartmentalized into a sequence of small and inefficient spaces. The kitchen was positioned in an especially dark corner and was only accessible from the entry of the unit. The master bedroom had a hotel-style sink and blow dryer in the room and a small, cramped bathroom.
To name just a few items on their remodel wish-list: a layout that made the most of the condo's 998 square feet, updated fixtures and finishes, an open and bright kitchen space, and a master suite that felt like more a luxurious retreat and less like a motel room.
Living room before:
Living room after:
"Our style is definitely modern and minimalist," says the homeowner. "We wanted bold but comfortable furniture. Everything should have a use and a place."
Remodeling within a large complex like Bronze Tree meant that all demolition and construction had to be completed by the arrival of ski season—a tight window from April to late fall. On top of the time constraint, the building is constructed of 12-inch-thick concrete walls that separate the rooms from each other. Each of these walls is slightly splayed, making all the rooms a trapezoid rather than square. In effect, all existing openings between the rooms had to be preserved when rearranging spaces. The electricians and plumbers had to work around the concrete, which limited the places they could rewire or plumb. Thankfully the design team was able to navigate the building's quirks and create a design that fit within their budget and timeline.
The new design included a rearrangement of the entry sequence, kitchen flow, and master bedroom to open up the unit and create dual-use spaces. The new plan added a double vanity to the master bath, a new mudroom area, and a built-in pantry and dining area into the kitchen.
The guest bedroom was transformed into a dual-use office and sleeping area, with the addition of a custom desk and dresser combination. The condo's color palette was updated to a clean, fresh look, incorporating bright whites and large-format tile to make the space feel bigger.
Before: closet…
After: mudroom!
The new mudroom features cubbies in wood grain laminate, gray porcelain tile, and white walls. The clean, minimalist look creates an immediate impact upon entering as well as much-needed organization. The tile is seamless into the living room and kitchen area, creating an open flow throughout the condo.
The use of tone-on-tone allows the eye to travel freely and bounces light around the room, creating the illusion of more space. The palette also allows room for the owner's art to be on display.
"The new modern space has become a great place to continue our art collection," the homeowner says. "We like finding pieces of art when we travel and of course wanted to include as much local art as possible. We have a few more places to fill in, but we are loving the canvas for all of our art."
Kitchen before:
Kitchen after:
The modern kitchen by Alpine Design Kitchen is simple, functional, and striking as a backdrop for the room. Gloss foil cabinets and gray quartz counters complement a textured porcelain backsplash. The designers added a round counter-height dining table that overlaps the island. This allows the owners to have a breakfast bar year-round or pull the table out when guests are over. Adjustable Calligaris stools transition between the counter and the table without effort.
Fireplace before:
Fireplace after:
The living area was reimagined by the addition of a new fireplace and a stunning custom steel fireplace surround fabricated by Storm Mountain metal. A black waterfall hearth creates a sleek base. A sleeper sofa adds extra room for guests and sits on a gray modern rug. The Calligaris coffee table can transform into another dining table, allowing extra dining room seating. An orange recliner and the owner's art collection add the right amount of color to an otherwise neutral space.
Both bedrooms feature textured carpet in different colors and patterns that give them each their own character. Modern Huppe beds feature drawer storage underneath, while clean white linens create a luxurious look. Bold animal artwork anchors the wall in the guest room and creates a modern-mountain vibe. A custom desk fabricated by Alpine Design Kitchen allows the homeowners to work while they have extended stays in Steamboat.
Master bath before:
Master bath after:
The modern improvements in the master bathroom erase all traces of the 1980s. A new solid-surface double-sink vanity top provides sufficient space for both homeowners to freshen up. Integrated medicine cabinets provide balanced light in the space and extra storage. A floating linen closet replaces the demolished closet, and an open shower with airy tile caps the end.
It's safe to say that the result of this small-space remodel was a giant success. "We ended up with a condo that is exactly what we wanted," the homeowners say. "We really enjoy the clean, modern, and efficient look of places that we visit in Europe and were looking to create that same feel here … we actually enjoyed the process of remodeling!"
DESIGN DETAILS
ARCHITECTURE, DESIGN, & INTERIOR DESIGN Vertical Arts Architecture CONTRACTOR Barkeater Carpentry​ CABINETS & COUNTERTOPS Alpine Design Kitchens SMART HOME TECHNOLOGY Cloud 9 Integrated Systems CARPET Carpets Plus PAINTING Head Painters DRYWALL Huyser Drywall FIREPLACE Hot Stuff Hearth & Home
Sarah Tiedeken O'Brien is a Project Architect with Vertical Arts Architecture, a Colorado-based architecture firm specializing in creating some of the nation's most unique residential and commercial spaces. Contact Sarah at 970.871.0056.
Content for this article provided by Vertical Arts Architecture.