A View From Every Angle
Windows and doors from Duratherm tie together the geometry of this stunning home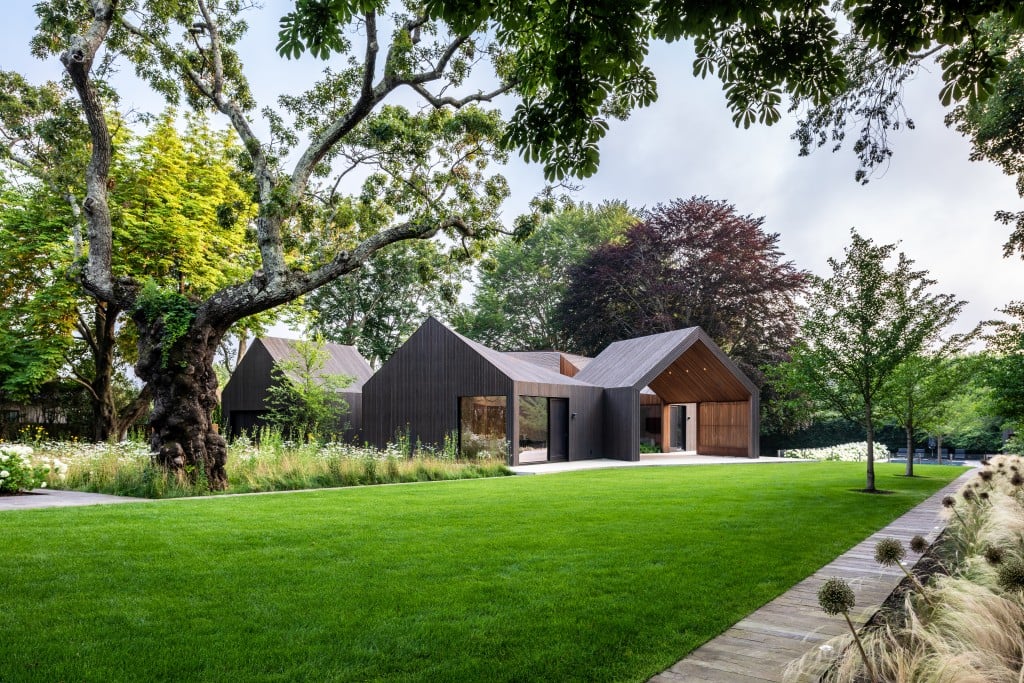 Located on a 2-acre lot adjacent to a historic house in Bridgehampton, New York, the Six Square House, conceived by Young Projects, is made up of six 24'x24' modules each featuring a gabled geometry. The six modules are composed to create continuous momentum between exterior roof ridges, while the roof eaves flow upward and downward along curves to break away from tradition.
The 3,500 square foot house contains two bedrooms, three bathrooms, a kitchen, an outdoor porch and garage. Living spaces open directly onto a landscape designed for entertaining: central court, meadow and pool house.
The kitchen, located at the center of the house, is adjacent to a "left-over" triangular court and looks through the open porch that frames views of the landscape beyond.
Living spaces and kitchen are linked to one another to serve as a large open space emphasizing the flow of continuous ruled ceiling geometry, while bedrooms feature framed views of the site's mature and gnarled trees for privacy.
Duratherm partnered with Young Projects and Minneapolis-based landscape specialists Coen + Partners to create intricate scenes through the all-wood windows and doors in the project. "The plan is a clustered grid, which sets up an interesting dialogue between the spaces", says Bryan Young, founder and principal of Young Projects. The outdoor porch carefully captures four ginkgo trees, while the master bedroom enjoys a direct view of a mature beech tree.
The six modules are skillfully wrapped in a skin of charred Accoya timber, a dark slatted façade that contrasts perfectly with the bright Western red cedar of the central courtyard's entertaining space. The carefully planned spaces create strategic divisions across the home, with each module loosely tied to a different use.
Duratherm delighted in providing all-wood windows and doors for this elegantly designed home that pushes the potential of the vernacular into unknown territory. Six Square House provided something new and refreshing, a beacon of the unexpected.
Alicia Henderson is the Marketing Manager at The Luxury Division of Pella, a collection of exquisite custom door and window brands located in Maine, New York, and Arizona. Contact Alicia at 641-621-3101.
Content provided by The Luxury Division of Pella.