A River Home Made of History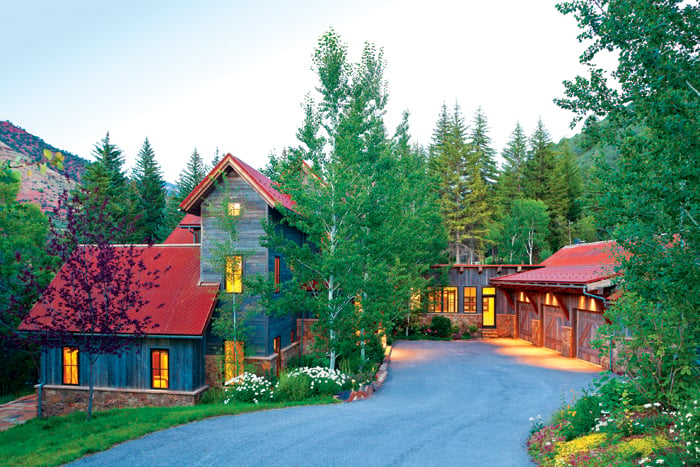 "It was love at first sight," Texan Daryl White says of his first glimpse of this pristine 10-acre mountain property near Basalt. Bordered by the gold-medal fishing waters of Colorado's Fryingpan River, it was an ideal setting for the project he had in mind: a multi-generational compound for his active, outdoorsy family. "When my daughter and son-in-law [Andee and Macky Morris] approached me about sharing the property and building a residence for their family here, it seemed like a natural extension of what I wanted," he explains.
They assembled a team including Memphis-based interior designer Rhea Crenshaw and local architects Martin Mata and Tim White to create a perfect home on what Crenshaw describes as "an incredibly challenging lot." Hemmed in by steep slopes on either side, it was a tight fit. But the family was deeply committed to causing as little disruption to the natural landscape as possible, so the resulting building complex was "puzzled together," as Crenshaw says, with a series of cozy spaces arranged on a variety of planes.
The main 5,000-square-foot structure was built as a year-round home for Andee, Macky and their two young children, while an 1,800-square-foot house offered plenty of room for Daryl and his wife, plus visiting family and friends. "I always thought of the two buildings as adjoining and complementary," Daryl says.
The design was guided by a desire for authenticity. The rough-hewn style of the buildings recalls the weathered look of vintage Colorado mining structures. "We wanted it to feel like you had come upon a forgotten mine," Crenshaw explains. Daryl describes the choice of exterior materials—repurposed Colorado barnwood, moss rock and rusted galvanized-metal roofing—as "an attempt at maintaining as much of a natural setting as possible." Crenshaw also ensured the home's colors reflected the natural surroundings: "We took the palette from the outdoors: rusty red stone, sage and greens from the pine trees."
There's a touch of sophistication here too, and it's especially obvious in the Southern-inspired interiors that combine rustic finishes with elegant lines, and a mood of time-honored heritage with a fresh and youthful energy.
History lingers in the very bones of the structures, with beams reclaimed from the Stonewall Jackson building in Tupelo, Mississippi, and rooms graced with a harmonious mix of Southern and European antiques sourced by Crenshaw.
In the living room, the designer brought together a river-themed triptych by Tennessee artist Kerry Peeples, an antique buffet from France and a fireside storage armoire built from a pair of vintage doors she found in Atlanta. The dining room's eclectic mix of furnishings includes a French trumeau mirror that hangs above an antique milliner's cabinet, a rustic trestle table and Italian mutton-bone armchairs with the original tapestry upholstery  intact. And in the kitchen, Crenshaw combined salvaged materials, like Mississippi-made reclaimed cypress cabinets stained with a driftwood finish, with new details designed to look timeworn, from limestone floors and hand-painted Italian tiles to the hand-painted and distressed soapstone-topped island.
"I wanted the interiors to look as if they had evolved: antiques and inherited items mixed with new pieces unique to the clients' style," she explains. "It's a real Southern trait. We are very tied to our history."
These days, the joined homes beside the river are becoming the setting for generations of family history to come. "It's a place for our large family to come together and fully enjoy the simplicity of nature without distraction," Andee says. Adds Daryl, "I've spent many nights walking grandkids down that back path in the dark of night with stories of bears and tigers and ghosts. We've made great memories here."
In the dining room, a French trumeau mirror hangs above a milliner's cabinet topped by hat forms, and Italian mutton-bone armchairs with their original tapestry upholstery intact accompany a wooden trestle table.
The entry mirror was made from a window found at a French flea market. The new cast-pewter antler lamps add a fun modern touch.
The living room's furniture is upholstered with fabrics selected to withstand "the wear and tear of rugged mountain living," interior designer Rhea Crenshaw says. The river-themed triptych is by Tennessee artist Kerry Peeples and the antique buffet is French.
Barn-style doors to rooms along the corridor are given a fresh twist with windows that offer extra glimpses of the views outside.
Crenshaw used two vintage doors she found in Atlanta to create a storage armoire that fits perfectly beside the fireplace.
Crenshaw wanted the kitchen to have an unfitted look "with a bit of a European feel, but Southern too." The reclaimed cypress cabinets stained with a driftwood finish were crafted by a Mississippi cabinetmaker, and the limestone flooring has an antiqued finish. The soapstone-topped island was hand-painted and distressed by artisans to create a timeworn feel. Above it, copper pendant lights hang from ropes. Hand-painted Italian tiles and a decorative wooden vent hood above the range suggest the look of a European lodge.
Reclaimed beams and cotton toile draperies set a vintage alpine tone in the master bedroom. A four-poster bed is dressed with an upholstered headboard and gingham-check and floral-print hangings. The armoire is a French antique.
For the master bathroom, Crenshaw chose a freestanding copper tub "to fit with the mining experience," along with locally sourced slate tiles and a glass shower designed to capture natural light and views.
The weathered hues and vintage look of the main and guest houses allow them to nestle easily into their natural surroundings.
Crenshaw describes the stairway as "the spine" that runs through all four levels of the main house, with treads crafted from the same Mississippi reclaimed lumber as the beams, and old sticks and carved wooden ducks made into a site-specific art installation by the designer.
Designed to accommodate the extended family (including six grandchildren), the smaller home's living room offers what Crenshaw calls "lots of comfortable, flopping seating space," with storage provided by a French armoire and buffet.
European and Southern antiques and Mississippi-crafted cabinets blend effortlessly, lending the small home's kitchen an easy country elegance.
The welcoming entry features an antique Asian lacquered chest and antique etchings of bears, while the cozy bedrooms have a simple charm.
TREASURE HUNTING
Interior designer Rhea Crenshaw is an expert at finding just the right vintage piece for any space, and she's also got the creativity to imagine new uses for old and unusual treasures. Here are some great places she recommends for making your own discoveries:
Round Top Antiques Fair
Round Top, Texas
With three shows a year, award-winning barbecue and an on-site dance hall, it's no wonder that this extravaganza of early American, Texas primitive and European furniture and accessories has been attracting crowds since 1968.
Antiques and Garden Show of Nashville
Nashville, Tennessee
Enjoy "a breath of spring in the midst of winter" at this fabulous three-day showcase of gardens, antiques and horticultural items, complete with more than 150 exhibitors, guest lectures (by the likes of HRH Prince Edward and Martha Stewart), live music and a Bourbon Party.
Brimfield Antique Flea Markets
Brimfield, Massachusetts
The oldest outdoor antiques market in the United States offers three yearly markets with hundreds of exhibitors and is world-renowned as a mecca for serious dealers and collectors.
DESIGN DETAILS
ARCHITECTURE Martin Mata, Mata Design Compan; Timothy White, TFW Architecture & Design, Aspen, CO, 970-319-6588 INTERIOR DESIGN Rhea Crenshaw Interiors CONSTRUCTION Regan Construction WINDOWS, DOORS & OTHER BUILDING MATERIALS Roaring Fork Building Specialties TILE/COUNTERTOP Steve Burger, Decorative Materials COUNTERTOP FABRICATOR Argento Marble and Granite, Carbondale, CO, 970-963-7070 CABINETRY Pettigrew Cabinets Inc. IRONWORK/CUSTOM HANDRAILS Infinity Iron, Glenwood Springs, CO, 970-618-1394 FINE HOME & COMMERCIAL PAINTING Swedish Painting Company, Aspen, CO, 970-920-2422 RECLAIMED MATERIALS (beams, flooring, etc.) Vintage Building Materials, Tupelo, MS, 662-401-8472 ARTWORK Piece to the right of fireplace: Commissioned work by Stephanie Morgan Rogers, Gallery 81435 and Over The Moon Charcuterie, Telluride, CO; Triptych over console in living room: Commissioned work by Kerry Peeples, Memphis, TN; Above fireplace in living room: Breaking Dawn by Kurt Meer, L Ross Gallery, Memphis, TN; Media room art: Snow Dogs by Donald Ray Hall, D'Edge Gallery, Memphis, TN, 901-767-2200; Artwork in guesthouse master bedroom: Louise Lee, Memphis TN