A Mountain Villa in Tuscany
A design dream team from the Rocky Mountain West builds a different kind of mountain home … in Italy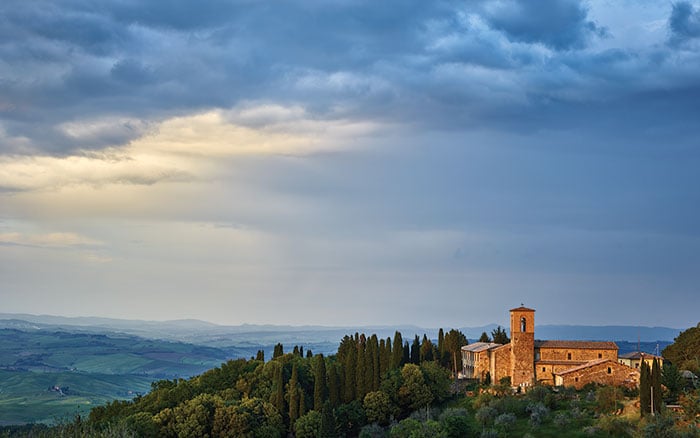 Ed and Lee Riddell had transitioned from running an advertising agency in Jackson Hole to working as professional artists when Ed felt the pull of Italy. He had spent his junior year abroad in Florence immersed in Italian language, art and culture.
Decades later, as he reacquainted himself with his artistic intention, he realized something was missing. He and Lee, whose previous excursions had tended toward wilderness adventures, traveled to Italy. "She fell in love with it," he recalls, "and I fell in love with it all over again."
Soon they were visiting twice a year, bringing their friends Jack Livingood, head of Big-D Construction, and his wife, Jodi, from Jackson Hole with them. In 2012, after 10 years of exploring, the Riddells started looking for their Italian home.

The couples renovated the villa, circa 1600, retaining the original Madonna. An arched door opens to Riddell's photograph of Val d'Orcia, B&B Italia Grand Papilio chair and local antique table. Handmade clay tile floor.
When shown a home built circa 1600, its original three-foot-thick stone walls still intact, graced by nature and location in the hill town of Montalcino, they were stunned. "There was nothing like it," recalls Riddell. "It has incredible views. The light is amazing. You're above the clouds. The best part is it's a five-minute walk to get a gelato, yet you're still in a villa, with grape vines, olive trees and that view."

Design meetings with Italian architect Marco Pignattai often turned into pizza-making sessions.
The villa was in good repair and they'd already fallen in love with Montalcino, one of the less touristy Tuscan towns, but the purchase was daunting. When they asked the Livingoods if they'd be interested in co-investing, they agreed, sight unseen. The couples then invited architects Paul (principal of JLF Architects and Design Builders in Bozeman) and Jillian Bertelli to participate. They had family ties in Italy and knew Montalcino well; they didn't hesitate.

Custom table, designed for leisurely Tuscan-style meals, was made of antique chestnut; Bacco chair and counter stools.

Photographs by Edward Riddell and paintings by Lee Riddell are found throughout the house.
After deciding to renovate, the couples worked out the details of their collaboration. Although Bertelli and Livingood had decades of experience building mountain homes in the Rocky Mountains, rebuilding a mountain home in a different country many time zones away posed challenges. As a group, though, they were extraordinarily well equipped. Riddell, with his language skills and local knowledge, would act as liaison; Paul Bertelli would work with Italian architect Marco Pignattai on design; Livingood would track the construction process and budget; and Jillian Bertelli would oversee the interiors. Architects Paul Bertelli and Marco Pignattai collaborated on the design and material choices, and locally Pignattai and his team hand-picked the local craftsmen and artisans and personally oversaw every exacting detail of the work. It was the perfect fit, Paul Bertelli explains: "Marco has a similar paradigm to ours, in the scale of his work and in his use of materials and cultural artifacts."

The villa, within strolling distance of the town of Montalcino, enjoys an ethereal view over the surrounding countryside. Mirto outdoor chaises by B&B Italia.
The villa's design is straightforward. While the regional custom is to put living space upstairs, Bertelli envisioned a kitchen/dining/living area that would spill outdoors on two sides to the pool and gardens. Upstairs bedrooms, plus radiant floor heating, solar panels and a more central kitchen, "met with some skepticism," Bertelli concedes. The biggest part of the job was enlarging the openings to introduce light and connect rooms to the outdoors. This necessitated using structural steel—worth the effort because, as Riddell says, "Light is everything in a house."

The Commune of Montalcino set off fireworks to commemorate the 300th anniversary of the Festa of the Madonna.
Although the project took longer than expected, the pace of work was reflected in the highest level of craftsmanship. The result, says Jillian Bertelli, was "beyond our expectations."
"We didn't set out to renovate," explains Livingood. "To find and buy a place, work through the business end of things, and develop a plan which is really respectful of an ancient villa took all of us to pull this off. It's been a rewarding adventure."

The Tuscan hill town of Montalcino proved irresistible to Northern Rockies artists Ed and Lee Riddell, architects Paul and Jillian Bertelli, and contractor Jack Livingood and his wife, Jodi.
Everyone involved points to the completion party held last fall. As construction workers and members of the community gathered at the house, there was a palpable appreciation for the group's thoughtful approach to the project. And despite initial skepticism about certain design decisions, now, Paul Bertelli says, "They're converts."

The entry to Villa Palazzetta.
A FOREIGN AFFAIR
Renovating an Italian villa sounds like the stuff of dreams—or best-selling memoirs. But embarking on a building project in another country is a major move that requires much research. It's also wise to allow for a built-in cushion of both time and funds so that any delays or cost overruns can be absorbed without adversely flavoring the experience. The Riddell/Livingood/Bertelli team recommends the following steps: 
SPEND SIGNIFICANT TIME in the area, learn the language, meet the locals and absorb the customs. Research SPECIFICS OF THE LOCALE that could affect the project's goals; for example, Montalcino lies within a UNESCO World Heritage Site, resulting in an extra layer of restrictions and approvals due to strict historic preservation laws. HIRE A LOCAL TEAM for the villa, Riddell/Livingood/Bertelli found an architect with whom they could communicate well, who shared their vision and would represent their interests. HOLD FIRM ON IMPORTANT GOALS. Radiant floor heating was an ambitious undertaking that pushed the local team out of their comfort zone, but it was something important to the Riddell/Livingood/Bertelli families. LISTEN TO LOCAL CRAFTSPEOPLE and give them the time and space to do what they do best.
DESIGN DETAILS
ARCHITECTURE Paul Bertelli and Studio Pignattai Rabagli Associati CONSTRUCTION Jack Livingood, Edil Ci-Zeta SRL and S.O.S. Casa Di Moccoli Massimo SRL