A Modern Home in the Rocky Mountains
One architect's take on classic modern design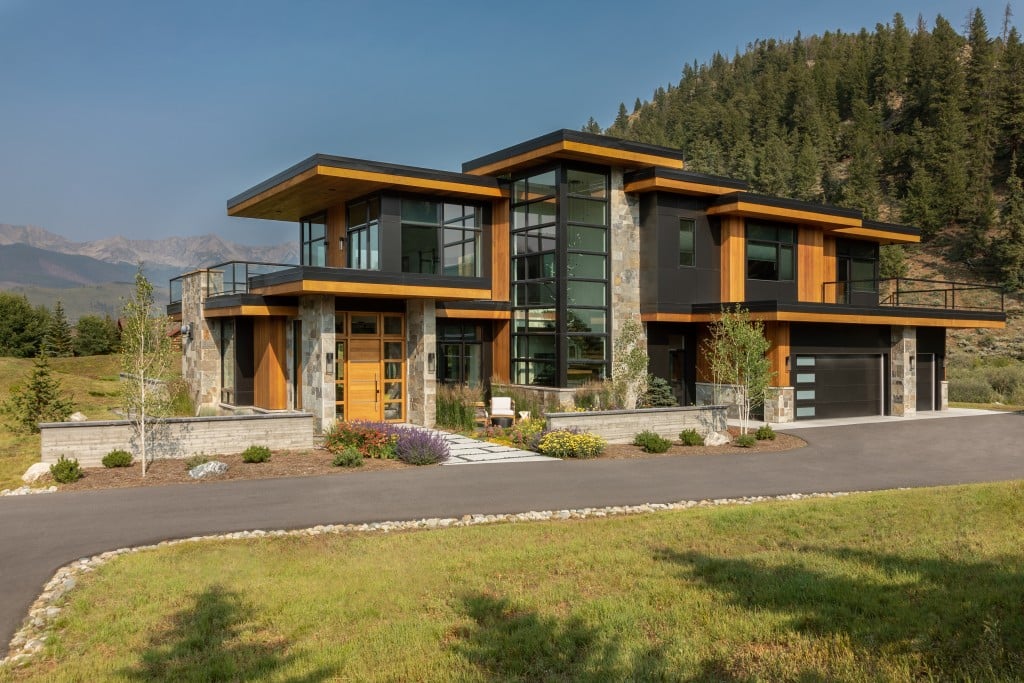 For this project on a three-acre lot in Breckenridge, the clients wanted true modern design in the mountains. They wanted flat roofs, big glass expanses, a material palette of metal and wood, and exposed structure throughout the home—all elements of classic modern design.
Driven by the stylistic goals, we began by designing boxy volumes and flat roofs of varying heights. With modern design comes a very open floor plan.
So here, the great room, kitchen, and dining are all in one form with doors on both sides of the rectangle. One set of doors opens to the front patio and the other, to the backyard. The owners wanted that open, modern feel in the public gathering space great for entertaining.
Upstairs are additional bedrooms, a flexible office/exercise space, and a family room with tucked-away bunk beds. The second floor also offers access to a big rooftop deck that stacks over the great room and dining area. The house is in a valley with mountains all around it. We wanted to capture those views.
And nothing's quite so helpful in that pursuit as glass, this home's number one material, which is also essential for the home's passive-solar design, maximizing energy efficiency throughout the year. To accent the glass, we specified cedar siding to add visual warmth, metal fascia for a handsome contrast, and stone to provide additional texture.
For the home's interiors, my team and I designed architectural details on par with the home's gorgeous exterior. The most notable of these is the staircase, a massive, glassy corner showcasing the tallest ceiling in the whole house. It was a great opportunity to showcase the staircase from both inside and out. Warm wood treads, an industrial-style structural system, and glass handrails all combine to give the staircase the desired effect—an ethereal, sculpture-like installation.
The staircase isn't the only area we focused on the interior details. In the entry, a slatted-wood ceiling treatment was designed to look purposeful and elegant and also have integrated lighting. We spent a lot of time planning exactly what that would look like. Similarly, we brought an industrial look to the dining room's tray ceiling with a faux I-beams which didn't need to be structural, so they are painted aluminum.
Our team dreamed up the design for the bar adjacent to the kitchen and planned careful recessed lighting in the main bedroom's tray ceiling. I think we do a really good job coordinating details, visually and functionally, so each house is just what a client wants.
During the architectural work, we collaborated with our interior design colleagues at Collective, who selected finishes, furnishings, and fixtures to complete the home's modern look—and deliver the clients' dream home.
Zane Levin is lead architect at Collective Design Group. View their profile or visit collectivedg.com for more information.
Content for this article provided by Collective Design Group.