A Home for All Seasons in Park City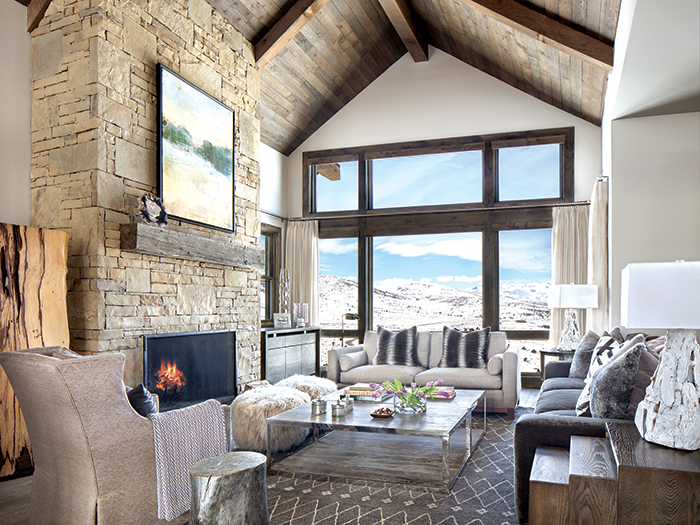 Chicagoans Tricia and Brian Eichenberger were happy spending weekends and time away from work aboard their sailboat on Lake Michigan. They didn't want for more. Until they landed one weekend at Utah's Victory Ranch development, a four-season destination minutes from Park City and Deer Valley.
"We fell in love with the place," Tricia says, describing the green valley, snowcapped peaks and cornflower-blue skies that met her gaze. But the couple was concerned that a second home would steal precious time from work, travel and other hobbies. As a solution, the Eichenbergers, both avid skiers and golfers, decided to buy a home with a group of friends. "This was a great way to get the luxury of a mountain home, but only part time," she says.
Tricia took the lead on the house, offering to oversee the project with the Victory Ranch team.  "I got to do all the fun stuff," Tricia admits.
To accommodate separate families and various groupings of guests, Eichenberger wanted four bedrooms that provided comfort and privacy with two large living rooms for lively shared spaces.

The exterior wood siding is from Montana Timber Products. By giving the wood an aged, rustic look, the Victory Ranch properties look like part of the landscape rather than a new development, says designer Glenn Taucher.
The design is pretty straightforward, explains designer Glenn Taucher of Line 8 Design in Salt Lake City, whose firm was brought into the Victory Ranch development in 2014 to work on designs for the cabin-style homes, like the Eichenbergers', and the larger mountain estates. The open floor plan has universal appeal and allows the interiors to really highlight the homeowners' personal style, he says.
In order for the home's aesthetic to satisfy all the owners, and their guests, Tricia brought in Austin, Texas, interior designer Donna Figg, whose eponymous firm has worked on a number of properties at Victory Ranch and across the country. "I wanted monochromatic," Tricia says. "I wanted modern rustic, but with an adult feel. I wanted it to feel luxurious, with a lot of fur and textures." Since the house is used year-round, Tricia did not want it to be just a ski house, or just a golf house.
Figg was thrilled by the challenge. "We used a lot of gray," she says, "but found interesting ways to make up for lack of color with a palette of textures, shifting scale in patterns and a mix of materials."
Throughout the home there are touches of hammered silver, reclaimed wood, faux fur and woven patterns. By the front door, for example, bunched simple "wine vines," in a grid of horizontal and vertical squares, add a large-scale organic element. Nearby is the lacquered slice of a tree trunk, rustic and contemporary at once. Lucite antlers in one of the bedrooms "bring mountain flair without being too literal," Figg says. Though its elements are simple and often natural, the home seems beautifully curated.
The four bedrooms, which Figg wanted to feel like individual getaways, can sleep 10 people comfortably. The master has a four-poster bed and seating area, while the bunkroom was designed to accommodate kids or adults with full beds arranged perpendicularly beneath twins.
On New Year's Eve in 2015, the owners gathered at the home for the big reveal. "I was so nervous," says Tricia. "Had they walked in and hated it, I'd be mortified, right?" But the reaction was even better than she'd hoped. "They raved," she recalls. "I couldn't be more pleased."
The New Year's Eve celebration has become an annual soiree, and the owners have already made plans for this year's event. "It's becoming a favorite tradition," she says.

Like the rest of the house, the neutral-toned kitchen is both cozy and clean. Counter stools are by Lexington.

A bleached antler chandelier over the round Urban Woods dining table adds contemporary flair. Upholstered chairs are by Dovetail.

A built-in bench provides a stopping point between the home and outdoor hot tub.

In this guest bedroom, the bed and nightstands are from Classic Home. Acrylic antlers by Classic Home and Grace & Blake hang over the bed. Swing-arm sconces are by Visual Comfort.

In the master suite, the lounge chair is by Four Hands, with a Tibetan fur pillow from Outpost Original. The soft cream area rug is from Jaipur, the drink table is from Arteriors.
DESIGN DETAILS:
INTERIOR DESIGN Donna Figg Design HOME DESIGN Line 8 Design
SaveSaveSaveSaveSaveSaveSaveSaveSaveSaveSaveSave