A Hillside Aerie Just Outside of Bozeman
This sleek, low-maintenance home is a spectacular site with mountain views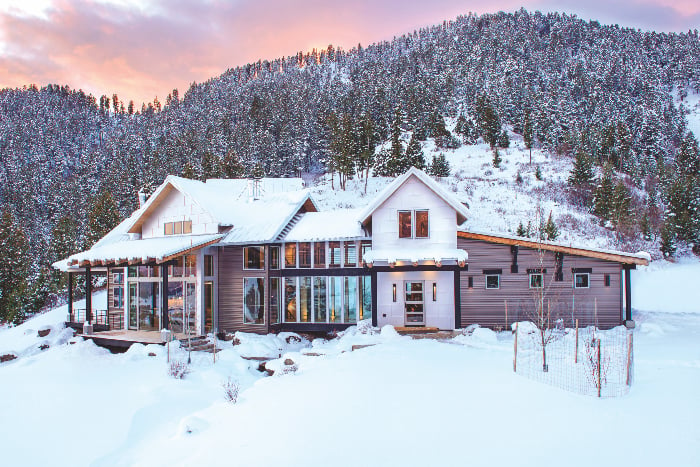 As lifelong residents of Tennessee and Texas, the homeowners have always been drawn to mountains. The husband was 12 years old when he noticed Montana; it stood out on a map depicting the largest concentrations of wildlife in the country. "I loved that Montana had grizzly bears, sheep, mountain goats and woodland caribou," he recalls.
As soon as he graduated from high school, he packed his gear and drove to Montana; after that, "I was always trying to figure out a way to be there." Career and family kept him in Tennessee, but over the years he got closer to his goal.

The home feels isolated despite its location just outside Bozeman.
First he bought a parcel of land, then a house. "I originally intended to live far out," he explains. "But we spent a lot of time driving to Bozeman for supplies. I get a lot of wilderness time so thought maybe we could find a place where I could hunt elk, my wife could go to yoga, and we could have sushi for lunch, a place with something for everyone, including skiing for the kids."

Wood floors, white walls and generous glazing create light-filled interiors upstairs; an elevated fireplace and sheepskin lend ambience.
That place turned out to be just outside Bozeman. The property stretches from the valley floor to the upper reaches of the foothills adjacent to national forest. There, Dewey Olson, Nathan Harmon and Kipp Halvorsen of Faure Halvorsen Architects worked with the owners and Battle Ridge Construction to design a unique take on a mountain home.
The site they chose, while sometimes requiring four-wheel drive to access,  has far-reaching views. It's up so high it actually overlooks one mountain range to the next, neatly satisfying the owners' wish for a wilderness feeling.

A floating breezeway connects the common area to the guest suites.
The owners weren't interested in another cabin-style lodge (they have a 1795 log cabin in Tennessee), and the husband, who enjoys architecture, had plenty of ideas. The result is a striking yet low-maintenance structure whose two connected gabled forms feature two types of steel paneling and plenty of glass. "The idea was to let in a lot of daylight," explains architect Kipp Halvorsen, "so that as you walk through the house you experience the landscape."

Board-formed concrete planks encase the living room's wood-burning fireplace. A custom screen conceals the TV when not in use. Quad cowhide rug; custom sectional; locally made pivoting coffee table.
The three-level structure is anchored at one end by a covered deck and great room and centered on a glassy connective piece with an interior bridge. Upper and lower volumes accessed by open staircases add interest and a sense of discovery. The home engages the contours of the hillside, stepping up and down with the topography—even bridging a gully where snowmelt flows. Says Halvorsen, who labored to avoid key elk habitat, "we let the land create the space."

Built by Battle Ridge Construction, the home celebrates nature through large expanses of glass and minimal interior distractions. The metal dining table was created by a local artisan, its slab top sourced through Montana Tile and Stone. Smoky glass pendant from Hammerton Studio.
Inside, wood floors, white walls and a Scandinavian-influenced minimalism make the most of the indoor-outdoor contrast. The homeowners worked with Michelle Varda of the Varda Group and Ashley Powers (formerly with the Varda Group) in selecting natural materials that would lend an elemental feel and bring the outdoors inside.

In the kitchen: a concrete waterfall-edge island, stainless-steel shelves and Native Trails apron-front sinks.
"We were also able to achieve this through patterns and textures seen in textiles and finishes," explains Varda. "The home features warmth in wood flooring, the tongue-and-groove ceiling, and the angled wood beams. Another key feature is the unique layout with multiple levels and staircases; it prompts a sense of adventure exploring the separation of private, public and hobby areas."

The fire tower has 360-degree views and handcrafted Tibetan sheepskin lounge chairs.
While every room has heart-stopping views, the most dramatic space in the house is undoubtedly the lookout tower. An office retreat for the husband, the room has 360-degree views of wilderness, mountains and sky. "I'd always loved fire towers in the West," he says. "When you're in the mountains, you appreciate an aerial view."

A salon-like bath with a view.
The home works exactly as intended: The rural character of the valley and the home's position in the hills lend it a sense of isolation and perfect peace, despite its proximity to town. And the location opens up possibilities for unlimited adventure. "It's a home base," explains the owner. "From here, we can go anywhere in Montana—the Front Range, the Missouri Breaks—it works for everyone. And while it's not as big a piece of property as I thought I wanted," he adds, "it's nicer than I ever thought I'd have."
LOOKOUT TOWERS AND THE AERIAL PERSPECTIVE
True fire lookouts are located in remote, forested places and typically staffed full-time throughout the high-danger season: summer into fall, until the first big rains. They're utilitarian places where a person can live, cook and sleep alone for sustained periods with only occasional reprovisioning. Located on mountain summits and perched atop tower-like bases, they command far-reaching views while providing utter solitude.
A lookout tower can also be a spectacular addition to a mountain home. There they generally fulfill two main  purposes: to serve as a retreat-within-the-retreat, and to offer sweeping vistas. In those cases, forms can vary. They can be:
 constructed of wood or stone;
attached to or separate from the main house;
open to a 360-degree deck or catwalk;
used as an office, a viewing platform, a studio or a retreat;
accessed by a staircase within the tower or a bridge from the main structure.
And as an added bonus: They just might help stop a wildfire before it becomes a conflagration.
DESIGN DETAILS
ARCHITECTURE Faure Halvorsen Architects INTERIOR DESIGN Varda Group CONSTRUCTION Battle Ridge Construction
As seen in the January/February 2019 issue