A Crested Butte Home on the River
This home is reimagined to embrace a family of children, grandchildren and in-laws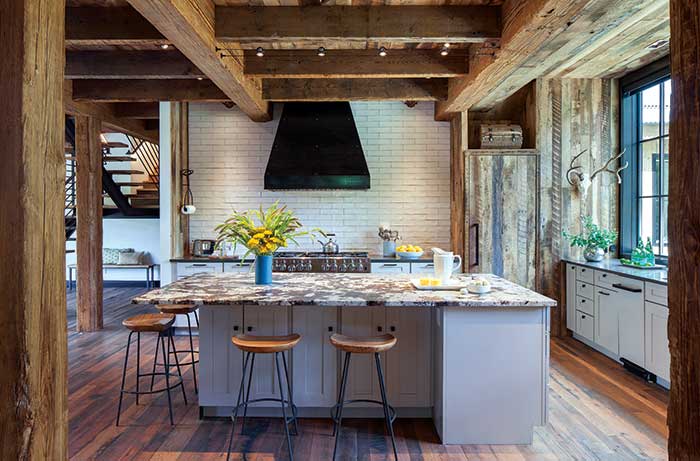 At a time in life when most empty nesters are downsizing, the Coburns did just the opposite. "With three children grown and gone … only one left at home, we upsized," says Ann Coburn.
Their two-level, 6,600-square-foot home has five bedrooms, four-and-a-half baths and sits among willows and cottonwoods on the bank of the East River in Crested Butte's Danni Ranch. "We bought a 35-acre lot as an investment and thought … well, maybe we'll build a spec home on it," Ann says. But when their youngest son saw the blueprints, he said: "It's so cool … why don't we just live there?"

The home is clad in weathered Wyoming snow fencing—burnished and wire brushed. Large doors and windows open entirely, allowing summer breezes and soothing river sounds.
They agreed and redesigned it to suit their family, which now includes a son in college coming home for summers and for ski season, and visits from three grown children with their families.
Ann and Bill Coburn's love affair with Colorado's Elk Mountains runs in the family. "In 1918 my husband's grandfather bought a little mining cabin in the ghost town of Tincup," Ann says. They vacationed there in the summer to hike and fish and in the winter to ski. Crested Butte (about an hour away) was the "big city" where they went to buy groceries or to catch a movie. "We liked it so much that we eventually built a house and moved to CB full time in 1998," Ann says.

A vintage rug graces the reclaimed oak floor in the dining room. The honey-colored beams are reclaimed white southern pine from Georgia.
Ann and Bill appreciated how historic mountain architecture could be repurposed—connecting past and present. Their business, Colorado-based Coburn Partners (founded in 1985), provides architecture, planning and construction management for residential, commercial and mixed-use development. One of their most iconic projects was turning an abandoned saloon and miners' club into Scarp Ridge Lodge, the flagship property of Eleven Experience, a high-end adventure travel company.
The river-oriented home the Coburns built for themselves captures the essence of mountain living by seamlessly blending rough-hewn with refined. "I wanted it to be clean and modern but with some rustic softness," says Ann, who designed and sourced all of the interiors. Coburn Partners drew the plans and managed construction.

A deep freestanding tub is an important element of the master bath, but the star is the colorful Moroccan cement tile. "It is super heavy," says Ann Coburn, "but strangely fragile."
The exterior is clad in reclaimed snow fence—aged by Wyoming winds, sawn into tongue-and-groove planks and wire-brushed "so the grain stands up and gives the wood a dimensional finish," Ann says. The greenhouse is sided with reclaimed wood with lichen growing on it. "In the summer, we 'water' it and it develops a 'bloom' that's almost neon green."

A local blacksmith made the floor-to-ceiling wood-burning fireplace that anchors the living room.
In the living room, honey-colored beams (southern pine from a barn in Georgia), a dramatic burnished-metal fireplace and sink-into seating effortlessly fuse modern and rustic.

Plans for the entire house started with huge kitchen windows looking out to the river. An eye-catching central island (made of Royal White leathered quartzite) easily seats six or more.
One of the family's favorite gathering places is around the large island in the cozy and practical kitchen. "We're baking, canning and preserving what we grow in the greenhouse and garden … and we always seem to be cooking with crowds of people," Ann says.

A greenhouse is welcome in the mountains, where the growing season is short.
A sunny card room evolved from what was originally planned as a wrap-around porch to a screened porch and is now a heated part of the house. It is a playful multi-tasking room—from the first cup of morning coffee to family playtime to cocktail hour.

There's something gloriously retro about the river-facing back porch with its comfortable swing and old-fashioned Coke cooler full of ice and drinks.

The tower room offers 360-degree views. Comfortable rocking chairs, an "industrial" desk and a strong Wi-Fi signal make a perfect office space.
The Coburns' grown children have jobs that allow them to work remotely. They are frequent visitors and consider "the tower" (located at the "L" of the house) as their office away from home. "It has strong Wi-Fi, overlooks the whole 35 acres and has a sofa bed for emergency sleeping," Ann says.

The window seat is a favorite place for Ann to sit and read, but the views of the river—and the wildlife—can be distracting.
On those rare occasions when the house is quiet, Ann enjoys sitting down with a good book in the master bedroom, which has large windows that frame the river views. During the kokanee salmon run in the fall, bald eagles fly up and down the river looking for fish to catch. "My reading suffers many distractions," she says. "We also have four ducks, 10 chickens, two goats and a yellow lab named Boo … so the house is rarely quiet," she adds with a smile.

Raised beds for flowers, herbs and vegetables allow the homeowner to start planting earlier in the season.
SUSTAINABLE BUILDING REDEFINED
Pete Weber (AIA/LEED AP), one of the principals at Coburn Partners, shares some of the changes he's seen in the field of environmentally sound building practices:
SAVVY HOMEOWNERS are driving sustainable practices today; they want to build green, designing a healthy home that is also good for the environment. NEW GREEN PRODUCTS have been developed for roofs, floors and walls including continuous insulation—wall sheathing like ZIP System. Another effective product is closed-cell foam insulation that sprays into stud cavities and fills every nook and cranny. HOT WATER HEATERS have changed; tankless heaters heat water when you need it and give you a virtually unlimited supply of hot water. DON'T FORGET THE FRESH AIR—in a well-insulated building with in-floor heating, indoor air can become stagnant. An HRV (heat recovery ventilator) brings in outside air and runs 24/7, providing fresh air all of the time.
DESIGN DETAILS
ARCHITECT & BUILDER Coburn Partners INTERIOR DESIGNER Ann Coburn
As seen in the July 2019 issue
RESOURCES
CARD ROOM TABLE Restoration Hardware 1900s Boulangerie CANE & LEATHER CHAIRS West Elm Huron WOOD TABLES Custom CHANDELIER CB2 Archer RUG Vintage Ralph Lauren FLOOR LAMP Target Menlo Glass Globe lamp LIVING ROOM SOFAS Crate & Barrel Tyson CHAIRS Crate & Barrel Greer RUG All Modern Ghoulston hand tufted wool rug COFFEE TABLE All Modern Slice Ibolili CHANDELIER Restoration Hardware Salvaged Driftwood Globe FIREPLACE Blackstar Ironworks DINING ROOM TABLE Restoration Hardware 1900s Boulangerie RUG Vintage CHANDELIER Crate & Barrel Cosmo Brass Pendant CHAIRS Crate & Barrel Lowe KITCHEN BARSTOOLS West Elm Alden HOOD Black Star Ironworks BACKSPLASH WALL TILE Daltile Artigiano Italian Alps Hi Country Floors ISLAND SLAB Royal White Leathered Quartzite  The Stone Collection ENTRY PAINTING Custom commission by John Ingham GOLD BOWL McGee and Co. ANTLER Found by owner RECLAIMED WOOD COLUMNS AND CEILING American Antique Lumber WOOD FLOORING Renick Wood Floors TOWER ROCKING CHAIRS CB2 Saic Quantum DESK West Elm Industrial Mango Storage desk DESK CHAIR West Elm Mid-Century swivel office chair CURTAINS Crate&Barrel Windsor SIDE TABLE Target live edge stool COFFEE TABLE West Elm Industrial Storage Pop Up coffee table MASTER BEDROOM BED Arhaus Pearson WINDOW SEAT LIGHT CB2 Loft Pendant light PILLOWS Custom SIDE TABLES CB2 Oxford Marble BEDSIDE LAMPS Target Threshold Brass table lamp MASTER BATHROOM FLOOR TILE Moroccan Cement Tile Agdal Moroccan Mosaic & Tile House TUB DVX Lyndon Dahl Plumbing TUB FAUCET Brizos Atavis Dahl Plumbing