A British Columbia Home They Call the Wolves' Den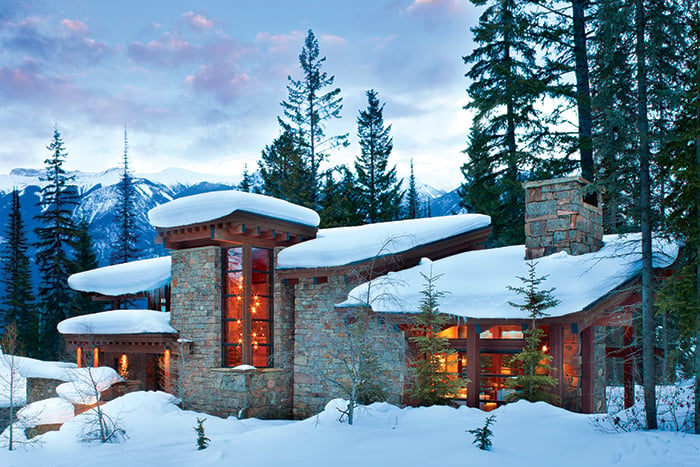 Were you of a mind to do so, you could call Kicking Horse Mountain Resort the Jackson Hole of Canada. Its own statistics, however, need no such comparison. With the fourth highest vertical drop on the continent, more than 2,800 acres of skiable terrain, and six Canadian National Parks in the vicinity, the British Columbia getaway has established itself over the past decade and a half as one of the most desirable resort retreats in the nation.
That's why one Calgary-based couple decided 11 years ago to buy a ski-in/ski-out homesite at Kicking Horse. And, not long after the birth of the first of their three sons, now ages 8, 6 and 3, they began building a second home there. "We're a very outdoorsy family," explains the wife. "We love the mountains, skiing, snowboarding and mountain biking. We've even enrolled our kids in the local ski-race team, committing to be here 17 weekends in a row throughout the season."
With that level of activity in mind, combined with their love for entertaining, the couple asked the Calgary-based architecture and interior design firm of McKinley Burkart to create "a cozy mountain home with modern touches." Or, as firm co-founder and co-principal, Mark Burkart, describes it in more practical terms: "We had to gear the house toward heavy use, which meant we couldn't be very precious about the materials we used, their scale, or their forms."

​Broad overhangs shelter the entry and surrounding terraces from snow in winter and harsh sun in summer.
That drove a decision to stick to three primary materials, both inside and out: wood, in the form of heavy fir timbers torched and wire-brushed to expose their grain, plus rough-sawn and whitewashed fir paneling; lichen-mottled Montana fieldstone for walls and fireplaces; and high-performance thermal glass to showcase views of the ski slopes and the valley below. The resulting "very rustic but modern aesthetic," says Burkart, creates a natural, unforced feeling, "almost like the house fell off the mountain in an avalanche and recollected itself on the site."
"We aimed to capture the ruggedness of the site, sculpting the materials into the form of a house." — Architect Mark Burkart
Each of the home's three levels—connected by an open staircase designed to feel like a modern mineshaft—is perfectly tailored to the varied functions of a mountain resort home. The middle level is devoted to family life and entertaining, with a spacious gourmet-quality kitchen and breakfast nook, dining and wine rooms, and a living room warmed by a massive two-sided fireplace that also opens to an outdoor fieldstone deck the owners enjoy in all seasons. The floor below features a firelit family room, a grotto-like hot tub, two guest bedrooms, and a slope-accessible mudroom. The master suite is upstairs, along with a huge bunkroom with bath for the three boys. "We call it the wolves' den," laughs their mother, expressing the rough-and-tumble spirit that reigns throughout the low-maintenance home.
Indeed, an easy-care attitude extends to the home's furnishings, selected in collaboration with McKinley Burkart's senior interior designer, Landon Anholt. "We wanted large, comfortable couches where 10 kids could pile on with bowls of popcorn," says the owner, who opted for soft-textured, durable wool upholstery in natural tones with pops of vibrant greens and reds. Throughout the home, the family's fun personal touches appear on shelves, desks and tabletops, including books about the area and even interesting rocks they've picked up on local trails. "It's all about the feeling you have when you're here," the homeowner says.
The result is that after some five years in residence, the home has become a highly personal expression of its owners. "We're happiest when we're in the mountains, and this place encapsulates our family."

Centered on its fireplace of lichen-flecked Montana fieldstone blocks, the living room beholds expansive views of the surrounding resort's ski slopes. Its windows soar 20 feet to a ceiling supported by 14-by-14-inch fir timbers. Oversized, durably upholstered seating suits the scale of the space.

A Parsons-style European white oak table by St-Paul Home comfortably seats eight in the formal dining room. Above it, partially mirror-glass fixtures from Urban Lighting suggest a retro-industrial aesthetic. The floor of oiled white oak boards flows throughout the home's main living spaces. Adding to the rustic-yet-sophisticated style, a wall of heavy timbers with dovetailed corners frames the adjacent kitchen and back hallway.

In the kitchen, an 8-foot-long weathered-zinc island counter and dark-stained wire-brushed oak cabinets complement a Wolf range and Sub-Zero refrigerator. The 8-and-a-half-foot-tall ceiling gives the space a more intimate feeling than the spacious adjacent living room.
"We're happiest when we're in the mountains, and this place encapsulates our family. "
— Homeowner

Located on the house's lowest level, the cozy family room is warmed by a fireplace that's flanked by decorative permanent arrangements of firewood logs.

Suspended from random-length cords and each surrounded by a wire cage, some five dozen Edison bulbs in the four-story-tall stairwell recall the lighting in an old mineshaft while also evoking a modern sculptural installation.

The top-floor master suite commands views up the ski slope from its corner windows and adjacent private deck. A screen of birch trunks separates the sleeping space from the step-up bathroom, where the floor of Carrara marble contrasts dramatically with the his-and-hers vanity's black granite counter.
ACHIEVING A RELAXED MOUNTAIN LOOK:
The homeowner, an aspiring interior designer, shares style tips she learned through the process of building her home on the ski slopes.
Relax your perfectionism:  "In my Calgary home, I like things clean," she says. But part of a home's rustic charm can derive from materials that change over time. "Our kitchen island counter is zinc, which is soft and is going to mark. Its patina tells a story."
Let the home speak for itself:  "Though I do have my own style," says the owner, "I came to realize that this home gradually develops its own personality."
Allow accessories to evolve: Rather than imposing a specific look, comb area shops and natural surroundings for decorative items that evolve over time and tie the home to its location. "All the fun accessories are items that we sourced from the area," she says.
DESIGN DETAILS:
ARCHITECTURE McKinley Burkart