5 Ways to Get That Vintage Bedroom Vibe
Antique furnishings are all the rage. Here's how to bring the look into your private sanctuary.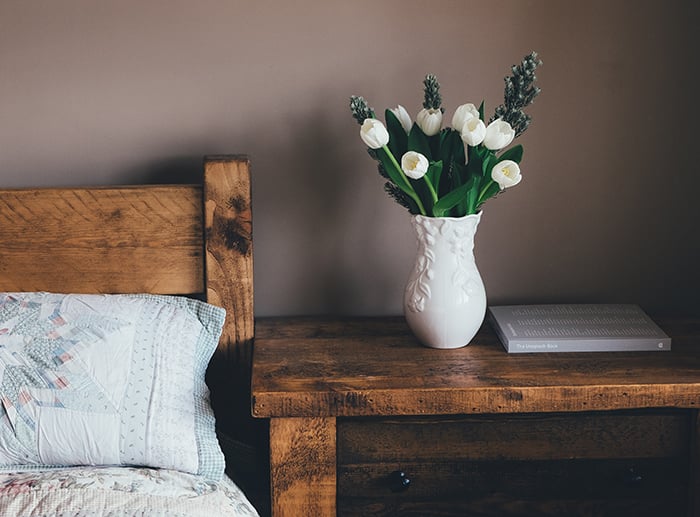 Your bedroom is the last space you see before going to sleep and the first space that greets you upon waking to a bright, new day full of possibility. Just because it isn't a space for making first impressions or entertaining does not mean you should skimp on your bedroom's style factor. In fact, this private sanctuary can have a serious effect on your ability to relax in the evening and feel inspired in the morning. It's time to invest in yourself and that master suite of yours. But how?
The best way to take your bedroom design up a notch is to sprinkle antique furnishings and décor items throughout. Vintage and antique elements can not only add visual interest to your bedroom, but they can also help create a space that reflects your own unique design eye—one that is much more dimensional and sophisticated than simply decorating with "what's trending right now."
So, where to start? Here are five tips that will help you put together your own gorgeous vintage hideaway in no time.
1. Find an initial burst of inspiration.
The first step to creating exceptional antique bedroom decor is discovering your initial inspiration. This could be an antique piece that you'd like to highlight, a color scheme that you love, or a period profile you want to focus on. It's easier to decorate around larger furniture pieces, so if you find a beautiful bed frame or wardrobe, let these pieces shine to guide your overall vision.
2. Go white.
If you're wondering what color palette to choose, go with a creamy white vintage bedroom palette. This soft white palette will invite tranquility and calm into your bedroom and gives you a great base if you want to incorporate color later on.
3. Mix the old with the new.
One of our top tips for decorating with antique furniture is to incorporate vintage and modern pieces. This decor layering technique gives your space depth and texture. For instance: Unexpected pairings such as antique furniture highlighted with modern art, or contemporary bed frames juxtaposed with a vintage rug, can work wonders.
4. Include upcycled elements.
Including repurposed and upcycled elements is a surefire way to make a charming vintage bedroom. Window shutters can become a creative headboard; vintage skis can be hung as wall décor; and suitcases can be stacked as side tables. When it comes to upcycling, there are two ways to begin. Either you have a piece that you'd like to feature, such as antique skis, or you have an item that you'd like to source, such as a bedside table. If you come across an antique piece that you love, consider how it could be creatively repurposed and reused.
5. Add a touch of glamour.
The final step to creating a standout vintage bedroom is all in the details. Antique lighting and accessories elevate your vintage bedroom decor to the next level. There's nothing more glamorous than chandeliers, and gilded, oversized mirrors. We especially love this look when combined with a soft white color palette.
Maggie Erickson is the store manager at Ski Country Antiques & Home, a shop that specializes in one-of-a-kind antiques from northern Europe as well as new home décor items. View their profile or contact Maggie at 303-670-8726.
Content for this article provided by Ski Country Antiques & Home.