5 Creative Ways to Repurpose an Antique Door
Add whimsy and nostalgia to your home with these clever ideas for that century-old entryway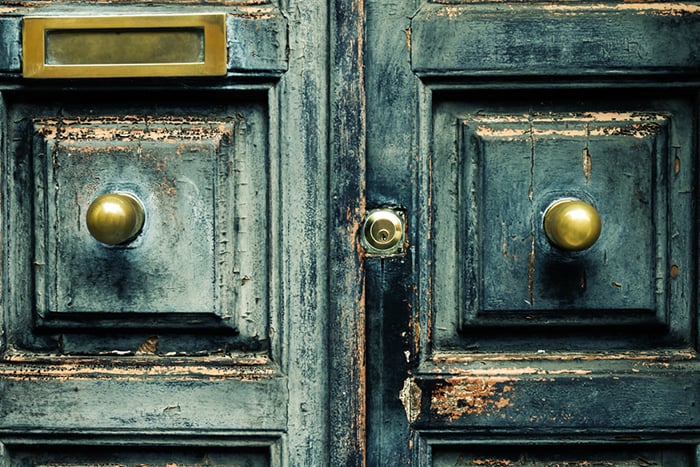 ​Antiques and vintage finds are such a sophisticated way to add history and interest to your interior design, especially when you can create a whole new piece from the original item. Take that up a notch with antique doors and windows, which can be repurposed into one-of-a-kind furnishings as well as built directly into your home's architecture.
Incorporating an antique door or window into your living space pays homage to the homes and families of years past. There is something indescribably genuine about a century-old Indian window framing a large piece of art in your great room, or ancient Egyptian doors acting as the gateway to your garden. Beyond the visual aesthetic, each antique piece begs the questions, Who was welcomed home by these doors 100 years ago? What views were seen out of these windows? What elements—and how many pairs of hands—have worn away at the multiple layers of paint? 
These five creative ways to repurpose antique doors and windows will add whimsy and nostalgia to any mountain home design.
1. Get horizontal.
Get up close and personal with an antique hand-carved door by turning it into a dining or coffee table. Use a glass overlay to protect the carvings and keep dust at bay. You can also craft a chair or bench from an antique door and add cushions for comfort.
2. On the wall.
Use your antique doors or windows to frame a large mirror or piece of art on your wall—or display the vintage find as a display, in and of itself.
3. Got an old gate?
Use it as décor in your garden—create an arbor or a trellis for your rose bush, or a birdbath for winged visitors.
4. A new hinge.
Take the century-old door and create a sliding barn door for entry into your dining room, office or library space. Or transform those vintage windows into custom cabinet doors for your dining hutch.
5. Door to door.
Use that old door the way it was originally intended, but with a twist. Make a stunning first impression for guests by customizing an arched entryway that showcases your antique doors, or create a dramatic portal to your wine cellar or theater room.
Tony Wilson is the Co-Owner and Picker at Rare Finds Warehouse, which specializes in rustic, reclaimed, vintage and industrial furniture, lighting and décor. View their profile or contact Tony at 303.990.9311.
Content for this article provided by Rare Finds Warehouse.SaveSave
SaveSaveSaveSave