4 Elements of Exquisite Porch Design
You've fallen in love with the site. Now it's time to put yourself in it.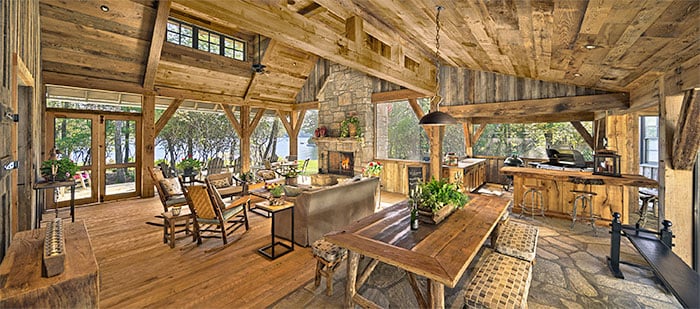 When you decide on the site where you aim to build your dream mountain retreat, more often than not it's all about the surroundings—the tranquility, the views, the proximity to (or distance from) the slopes and resort-town shops. Unlike building on a city lot where privacy and curb appeal are typically the top priorities, designing a home in the mountains is all about not isolating yourself from your environment. You want to pay homage to the site and ensure that the initial feeling you got when standing on that property for the first time is preserved and elevated once the home is built.
The best way to relate your home design to its site is by maximizing the indoor-outdoor connection: porches, decks, terraces, and stunning, unobstructed views. Here are 4 elements of porch design done right—from the conception to the enjoyment of them.
1. Plan and position
The key to making your outdoor living space work is how you (and your design team) plan and position it. Plenty of houses have great porches, but oftentimes you can't get to these outdoor spaces without great effort. A porch like this is a space that likely gets very little use—it's a destination; you have to make a point to go there, and it doesn't connect to the rest of the house. The ideal space is one that seamlessly and intuitively flows with the rest of the home, so that it is engaged and used often.
So, how do you position your outdoor living space so that it connects with the rest of your home? The hub of any house is usually the kitchen. Ideally, the kitchen will immediately connect to outdoor dining, living, and gathering, just as it connects to the indoor dining, living, and gathering—all of the dining, living, and gathering spaces should be organized together, indoor and out, revolving around the kitchen.
If you enjoying being outside in the afternoon sun, focus your outdoor spaces to the south and west so that you can enjoy those spaces year-round. This way, you can tuck up against a fireplace on a sunny January day and still enjoy a great, comfortable afternoon outside.
Think about the time of year when you want to spread out into your outdoor surroundings and host more people in your outdoor spaces. In warmer seasons, daily life can "extend" to the farthest outdoor spaces from the indoor space. You can actually build less house this way, as long as you have layers of covered, uncovered, and perhaps screened and unscreened spaces that the house seamlessly opens up to, which allow the house to spread its wings and grow in a time of year when it can and when people are more active in and around the house.
If you're working on sloping sites and you have a walkout lower level, which a lot of mountain homes have, then try not to shade those lower spaces with too many decks and porches because it darkens those spaces. Position them appropriately so that they don't darken those lower spaces, but enhance them. The lower level spaces should also connect to the outside both visually and functionally.
2. Lifestyle accommodation
A good outdoor space accommodates what it's meant to accommodate. Many clients report that they spend the majority of their time on their porches. They open large glass doors in the morning and spend the day enjoying the crisp mountain air—with the kitchen nearby for support. Whether you prefer to spend time with family around a campfire or playing bocce ball, your outdoor space should provide all the comforts necessary to maintain your lifestyle and capture everything that caused you to fall in love with the site to begin with: the views, the sun, the breezes, and more.
3. Large openings
An ideal mountain home is one that's extremely day lit, both inside and out, and seamlessly transitions from interior spaces to outdoor living. Large windows and layered entry points for natural light will give the whole place that luxurious sense of being effortlessly intertwined with the outdoors. Another way to create a continuous indoor-outdoor connection is to incorporate large glass doors that fold or pocket into the walls. The ability to remove the barrier to the home's surroundings fully blurs the line of what's inside or outside—especially when you have roofed outdoor spaces.
When you've designed things right, your guests will move from inside to outside with little or no sense of a barrier.  This type of home design is powerful and creates a dynamic experience from season to season.
4. Keep the elements at bay
You can only enjoy your outdoor living spaces as much as weather will allow—but you can also design these areas to maximize usage no matter the season. Because of its protection from rain and insects, a screened-in porch can be furnished more liberally—with rugs, upholstered furniture, and accessories like lamps and televisions. Screens can be designed to retract on a nice day with just a push of a button and with the incorporation of fireplaces or low-profile heaters, you can take a cold evening and transform it into a cozy mainstay of your home in the fall and winter months.
Parker Platt is an architect and owner of Platt Architecture, an architecture firm based in Brevard, North Carolina, that has been working to enhance people's lives by helping them connect to each other and their environment for nearly 40 years. View their profile or contact them at 828.884.2393.
Content for this article provided by Platt Architecture.