3 Colorado Drives to Capture Color Season
Fall colors are almost here. Start planning your road trip now.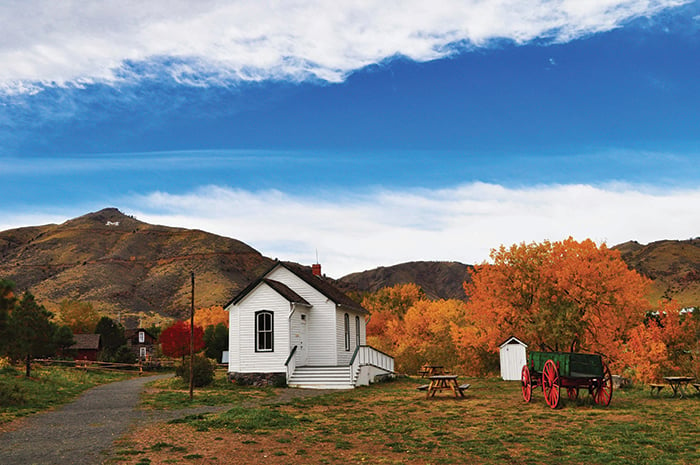 I've crisscrossed the state several times this month, and it has shown me in no uncertain terms that fall colors are coming early this year.
In fact, I think we will be in full color in the Colorado Rocky Mountains prior to the end of summer on September 21.
Several aspens on McClure Pass were already fully yellow on August 9.
Here in my neighborhood, just 5,000 feet above sea level, trees are turning gold.
One of the best ways to experience Colorado's color season is to travel one of our scenic byways.
Grand Mesa Scenic Byway

Grand Mesa [Photo by Steve Huntley]
The Grand Mesa is one of Colorado's largest hidden gems. Few people who live in the Denver metro area are unaware of its existence. For those living on the Western Slope, Grand Mesa is a year-round playground.
Grand Mesa is the largest flat-top mountain in the world; at its highest point it sits at 11,333 feet above sea level. The scenic byway runs between Cedaredge on the south and Powderhorn Ski Resort on the north. The drive winds through aspen groves and green meadows as well as forests filled with the scent of pine. This 500-square-mile mountain is covered in more than 300 lakes and terrain that reminds me of childhood camping trips.
Applefest takes place annually in Cedaredge during the first full weekend of October, and it's a greatreason to visit the Grand Mesa region. The area is well-known for growing apples and other fruits. This is one of the Western Slope's biggest outdoor festivals and features 200 vendors and around 25,000 attendees.
Lariat Loop Scenic Byway

Seen on the Lariat Loop [Photo courtesy Visit Golden]
This byway, just west of Denver, is easy to do on any given weekend. The Lariat Loop is 40 miles of easily navigable roadways that were designated to the National Registration of Historic Places in 1976. It combines two historic routes that were part of several "scenic circles" developed by Denver when the automobile was a much newer mode of transportation, circa 1915.
The Lariat Loop starts in Golden, winds through the towns of Evergreen and Idledale, and ends in Morrison, home to the World Famous Red Rocks Amphitheater. Driving straight through the loop takes approximately 2 hours, but there are plenty of reasons to take a little extra time on this route. The Lariat Loop is a wonderful Colorado leaf-peeping drive, but there are a handful of other things to explore en-route, too. For instance, Golden is home to Coors and the site of Buffalo Bill's grave. Learn more about the Lariat Loop here.
West Elk Loop

Photo courtesy Crested Butte Mountain Resort
I'm including the West Elk Loop in this list because I mentioned McClure Pass earlier in this article. This is also one of the most diverse scenic byways in Colorado, encompassing everything from vistas of pine to wide open, nearly desert-like country.
Begin in Carbondale, drive towards the town of Marble and then over McClure Pass into one of my favorite areas of Colorado, the North Fork Valley. Here, turn south towards the Black Canyon of the Gunnison, another incredible and yet under-visited area of Colorado. Lastly, head towards Gunnison and end this scenic drive in picturesque Crested Butte, a place that stands out during every season.
Learn more about all of Colorado's scenic byways at Colorado.com.
SaveSave