This Home is a Historic Jigsaw Puzzle
A cabin in Crested Butte is reassembled log by log to become a family fishing retreat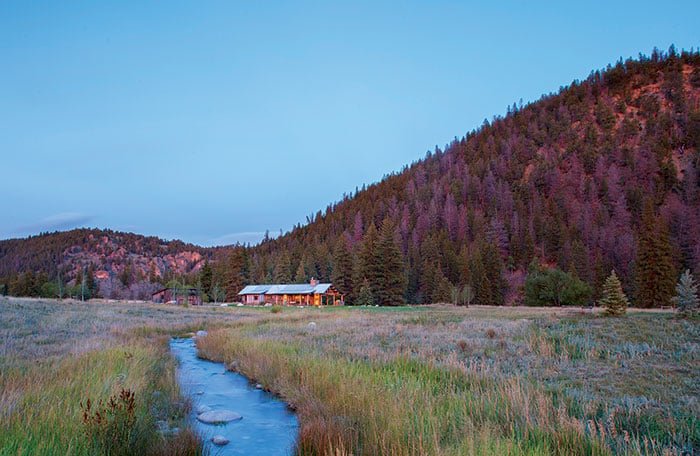 Built in the 1940s by Sherman Cranor, the hand-hewn Gandy Cabin as it was called had enjoyed a rich life alongside Colorado's Crystal Creek. When Scott Hargrove, president of Hargrove Construction in Crested Butte, was contracted to build a new home on the site of the cabin, he envisioned another life for the carefully crafted piece of local history. He decided to dismantle and store it away until the right family and the right opportunity presented itself. "I like the idea of saving history," says Hargrove.
Approximately eight years later, the stars aligned when Chuck and Holly Schiavo of Edmond, Oklahoma, came to Hargrove with the idea of building a fishing cabin on their newly purchased 35-acre property at Wilder on the Taylor, a historic working ranch homesteaded in 1898. Hargrove and the Schiavos decided it was finally time to give the Gandy Cabin its second life.

The cabin's style is a very contextual, simple ranch form that takes advantage of the natural setting with indoor-outdoor living spaces. "It has the feel of being there for 100 years," says Hartman. A porch swing and whimsical fish beckon guests to the front door, which is framed by landscaping edged in stone by Spring Creek Landscape Company.
"I like the idea of saving history."—​Builder Scott Hargrove
Alongside Alene Davis, an interior designer from Tulsa, Oklahoma, and Jennifer Hartman, principal and co-owner of Sunlit Architecture in Crested Butte, Hargrove merged beauty and nostalgia into a one-of-a-kind three-bedroom, three-bathroom fishing cabin for the Schiavo family.
"All of us were a melting pot of ideas, and all inspiring each other. It really was a dream job, and I thoroughly appreciated everyone's talent in this endeavor," Davis says.
Reassembling a decades-old cabin was no easy feat. When the logs from the Gandy Cabin were loaded and delivered to the new homesite, Hargrove realized that numbered tags previously placed on each log to help with the reconfiguration had crumbled away. Relying on patience, old photographs and rough measurements to piece the historic cabin together again, Hargrove and his team were able to eventually fix what he calls a "jigsaw puzzle."

Design and placement of the Schiavos' home taps the beautiful natural surroundings at Wilder on the Taylor. The covered outdoor patio features storage closets for fishing gear and a custom barbecue by Rocky Mountain Masonry in Gunnison, a hot tub overlooks the Taylor River, and stepping stones meander to lower thinking patios.
A highlight for Hargrove was seeing what the original carpenters had done and trying to mimic their style, but it also was a major test of skill, creativity and flexibility.
Hartman designed a retreat with a low profile, natural color palette and numerous windows. The goal was to create a place where the Schiavos could bring friends for fishing getaways and "unplug and reconnect as a family," Hartman says.

Furnishings were primarily purchased or crafted locally, including pendant lights from Mountain Colors Paint + Design and a kitchen island base capped with soapstone and woodwork painted by Beauti-Faux Creations. A Heartland stove is tucked where a stone fireplace once stood, and a faux antler chandelier from Restoration Hardware is perched over the dining table.
The Gandy Cabin makes up the bulk of the structure, with an addition thoughtfully placed facing the Taylor River that includes  a master bedroom and bathroom, a guest bedroom and patios. A long rectangular great room featuring living, dining and kitchen spaces greets guests as they walk in, and Hartman used existing features for both form and function.
"The trusses were based on the original design but enhanced structurally to meet today's code. I also used them to demarcate the different rooms within the great room," she explains. "The original cabin had a stone fireplace, which is where we placed the freestanding range."
The spacious modern kitchen with state-of-the-art, antique replica appliances leads to a large laundry room, bunkroom, guest room, and half and full baths. A covered patio next to the living room features a fireplace and custom barbecue and transitions to a smaller fire pit and "thinking" patios on the short walk down to the river.

A small patio off the master bedroom takes full advantage of river sounds and mountain sunsets.
"It is a very livable cabin in that it is unpretentious. It's a lovely scale and has a warm and welcoming feel," Hartman reflects.
The interior design approach was "set by the river and the cabin itself," explains Davis, who worked hand-in-hand with Holly Schiavo to select the furnishings and décor.
Furnishings and lighting from Crested Butte businesses Studio West, Gypsy Wagon, Interior Visions, Casa Bella and Mountain Colors Paint + Design "gave roots to the project," Davis notes. Shopping excursions in Tulsa and online also were strategies used by the duo, but "All the local finds make this home really shine."

A comforter and several pillows in soft colors join a leather headboard and small table by Restoration Hardware in the master bedroom, accenting the natural wood floor and ceiling. Sheets from Pottery Barn, linen chairs handcrafted in Tulsa and wine-barrel stools bought locally complete the look.
INTEGRATING OLD INTO NEW:
As a builder, Scott Hargrove relishes saving local history and learned several lessons working on Chuck and Holly Schiavos' unique fishing cabin.
Sometimes best intentions don't work out
When the historic cabin was disassembled, the logs were tagged, measurements and photos taken, and a skeleton drawing created. When taken out of storage, the tags had decayed and crumbled away.
Make due with what's left
The original logs were in great shape overall, but the first three rows of sill logs were not usable due to dry rot from years of snow resting against the foundation. Hargrove and his team cut some of the usable logs in half horizontally and utilized traditional framed walls in strategic places.
Patience and passion are required
This is not a "hurry up and get done" type of project; trust from the clients is a must.
An old look with new materials
Sand was added to the chinking so it looked traditional but featured modern technology for expanding and contracting.
It's not the usual planning process
Architect Jennifer Hartman made several trips to the building site to get information needed as the cabin was reassembled in order to get accurate measurements, and then taken down again to build the new foundation. "This plan was not all created in an office, and it involved more on-site head scratching than usual," Hargrove says.
Find the right place
Wilder on the Taylor, a historic ranch just down the road from the original location, provided the perfect context for relocation.
DESIGN DETAILS:
ARCHITECTURE Sunlit Architecture INTERIOR DESIGN Alene Davis CONSTRUCTION Hargrove ConstructionSaveSaveSaveSaveSaveSaveSaveSave
SaveSave