These Ski Rooms Rival A Resort
4 stunning ski rooms with a host of amenities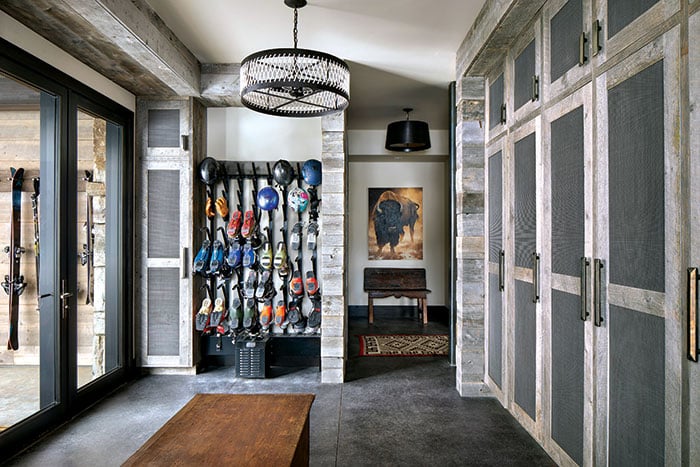 When creating ski rooms in vacation residences, architects and designers are requesting perks common in five-star resorts. "These big mountain homes are built to accommodate a lot of family, friends and guests of the owners, so they want a locker for each person" with built-ins for gear and accessories, even charging stations, says Matt Dickamore, Vice President of Design at Denton House Studio in Salt Lake City, Utah.
Also important in the room, he says, is soft seating that can be moved around, and a counter with a coffee and hot cocoa maker. Some clients are even requesting TVs, "so you can catch the news or the last few minutes of a game" before hitting the slopes, Dickamore says. In addition to ventilated lockers and ample seating, another must in a ski or mud room is a floor that can take a lot of abuse. Designers and architects are using a variety of materials, from stone to recycled rubber.
And going back to that focus on luxury? For one Lake Tahoe home, architect Keith Kelly of Kelly & Stone extended the home's radiant heat to the ski room's porcelain tile floor so cold feet hitting the surface would be instantly warmed.
Here are four ski room designs that will make you want to gear up for the great outdoors.
LUXE LOCKER ROOM

Kat Alves
On a wooded lot near North Lake Tahoe, California, a mountain contemporary home's ski and mud room serves as an alternate entry off the front of the house, so it gets a lot of use. While the emphasis is on function, with ventilated lockers and radiant-heated porcelain tile flooring, the space has style to spare. Materials include clear alder for the lockers, which have LED lights activated when the door opens. To add comfort and color, a built-in bench was installed on the back wall, upholstered in Knoll's Atelier fabric. Another bright touch is
the red leather Ravella daybed from Room & Board.
ARCHITECT Keith Kelly, Kelly & Stone Architects
DESIGNER Annie MacFadyen, Ryan Group Architects
HAPPY TRAILS

Gibeon Photography
Skiers and snowboarders staying at this Copper Mountain, Colorado, vacation home get to preview the slopes while getting ready, courtesy of a trail map that has been printed on the upholstered back of a bench in the room. The homeowners wanted to focus on natural and eco-friendly materials, so Woden Woods of Denver, Colorado, built the stained knotty alder custom bench and lockers. The reclaimed wood used on the walls is from Arigoni Woods, and the Yemm & Hart floor is made out of recycled rubber tires. Decorating the walls and continuing the ski motif are oil paintings of the owners' children on the slopes.
ARCHITECT Benjamin Henson, Allen-Guerra Architecture
DESIGNER Pat Conner, Madden-McFarland Interiors
WARMING TREND

Gibeon Photography
The slope-side ski room in this Yellowstone Club home in Big Sky, Montana, is so cozy that guests may not even want to venture outdoors. "A ski room is no longer just an area to change clothes or put on boots," says designer Matt Dickamore. In addition to its Chief Cliff stone fireplace and tumbled limestone floor, this one has sleekly designed lockers with metal mesh inserts, a refreshment center and boot dryer. The quartet of hair-on-hide ottomans offers flexible seating to give guests the option of being close to the lockers when dressing or pulling up to the fire when it's time to get warm.
ARCHITECT Corey Kelly, Locati Architects and Interiors
DESIGNER Matt Dickamore, Denton House Studio
OUTSIDE INFLUENCES

Gibeon Photography
The natural beauty of Moonlight Basin in Big Sky, Montana, was the inspiration for this family-friendly residence. The soothing blue, gray and brown shades of the mountain surroundings are echoed in such materials as the stained concrete floor and historic Douglas fir on the walls. Woven wire mesh provides ventilation in the fir lockers, which are trimmed with white bronze pulls from Rocky Mountain Hardware. A spacious warmer near the door gets a lot of use for drying boots, gloves and helmets. The home's contemporary design is juxtaposed with such pieces as an antique Navajo rug, an 18th-century bench and a Colin Alexander oil painting of a bison.
ARCHITECT  Jamie Daugaard, Centre Sky Architecture
DESIGNER  William Peace