Seven Hot Trends for Your Outdoor Spaces
Tips for making the most of your outdoor entertainment areas from the pros at Hoff Miller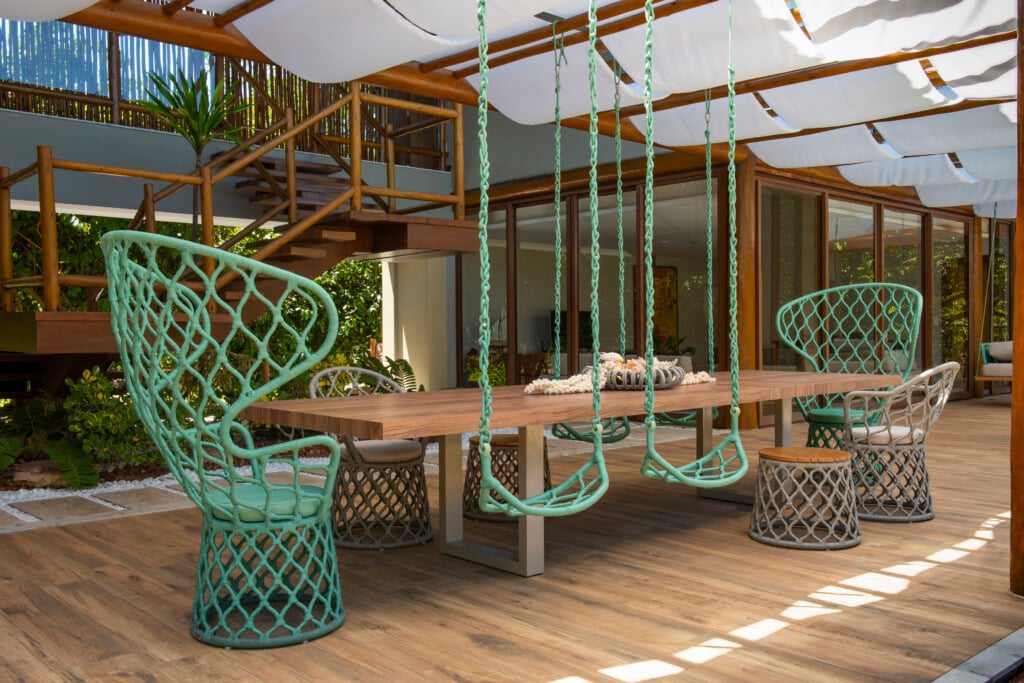 Sponsored Content
Our outdoor spaces are a crucially important extension of our homes and more than ever, spaces we enjoy year round. With summer right around the corner, you may be thinking about ways to freshen up. Here, we take a peek at some of the hottest new trends- from colorful hues and organic shapes to touches of whimsy and furniture with versatility. Take a look and be inspired!
1. Embrace Color
Gone are the days of grey; color is back and in a big way. Bring some personality to your outdoor spaces with colors that complement your home and surrounding scenery. Don't be shy, show off your great taste to your neighbors.
2. Stay Warm
Outdoor spaces don't have to be summer use only. Radiant heating has come a long way with FAR-infrared heating technology. Beyond just warming you up, it provides therapeutic benefits such as improved circulation, immunity boost, and more.
3. Organic Shapes
Let nature inspire you when selecting outdoor furnishings. Organic shapes help soften outdoor spaces and rectilinear architecture. They also allow for more generous seating, perfect for snuggling up with loved ones.
4. Light the Night
Enjoy your outdoor spaces into the evening with a variety of lighting. Ambient and decorative lighting sets the tone for a welcoming environment to keep the conversations going. The addition of task lighting provides a place to curl up with a good book.
5. Expand
Providing a seat for all is the entertainer's dream. An expanding table allows for both an intimate dining experience and a big celebration. Self-storing leaves and casters make it an easy one-person job.
6. Create Shade
Shade structures and canopies provide a much needed break from high-elevation sunshine. Customize your shade structure with slats on the sides for added privacy and sun protection. You can also add curtains, sling walls, and sling roofs.
7. Hang Out
We've seen the rise in popularity of the hanging chair in the last few years. Make yours stand out by selecting fun custom colors. Or hang them in unexpected places, like at your dining table or at the edge of your deck.
Caitlin Mancini is the Marketing Director of Hoff Miller, a multi-line showroom that features luxury furniture, fabric, lighting, and accessories both indoors and outdoors. Visit their showroom in the Denver Design District, view their profile or contact them at 303-698-0800.
Content for this article was provided by Hoff Miller.