High Tech, High Style
This sleek Bozeman condo—with smart light technology and more—is in one of the town's most bustling neighborhoods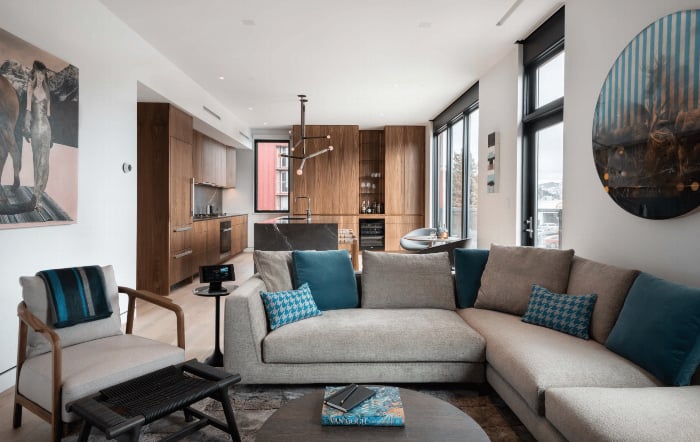 In southern Montana, nestled in a valley surrounded by mountains, Bozeman is a bustling college town with stylish restaurants, access to outdoor adventures including Yellowstone National Park, boutiques and more. The town, too, boasts an elevated interior design and architecture industry.
Ranging from alpine chalet-chic homes and rustic abodes to a flour-mill-turned-colorful loft, there is so much to explore in Bozeman's home design scene.
Take this sleek condo in one of the town's most bustling neighborhoodsfor example. It combines high style with high tech amenities. Designed by Susie Hoffmann and Eleana Montoya of Envi Interior Design Studio, smart technology from Cory Reistad and SAV Digital Environments seamlessly adds intellegient solutions to the modern space.
We spoke with Hoffmann and SAV's Scott Abel about the process of designing this unqiue Bozeman home.
WHAT INSPIRED THE DESIGN?
Susie Hoffmann: We were inspired by the architecture by Doug Minarik of Minarik Architecture. The building is on the North East side of town which is more adventurous in terms of architectural style. There is definitely an urban appeal to this space and we wanted to ensure interior of the space maintained that. We used contemporary style, but classic materials: walnut cabinetry, natural stone countertops and marble tile. We partnered with Studio Como to furnish the space, so the furnishings are all Italian (and totally fabulous!) Visions West Gallery provided the artwork, and many of the pieces are from local artists which helps keep the space grounded in Montana.
"This space is a great example of seamlessly integrated technology"
— Interior Designer Susie Hoffmann
LET'S TALK ABOUT TECH.
SH: My favorite element is the Human-Centric lighting. This lighting changes over the course of the day to mimic the light of the sun, bringing the benefits of natural daylight indoors. The thoughtfulness behind this technology is meant to enhance our natural circadian rhythms and improve overall health. The solar shades are integrated into pockets in the ceiling—a seamless design feature. The outlets throughout are flush to the surface on which they are mounted, making them less noticeable. As a designer, I believe that the less tech you actually see, the more appealing the design.
Scott Abel: This space is a living, breathing showroom. A space where reliable technology elegantly hides in the background while simplicity and intuitive control is in the foreground, all packaged together in a modern aesthetic. SAV wanted the technology to be present but integrated into the environment as seamless as possible, creating a holistic experience through lighting control, automated shades, audio/video system and network infrastructure.
HOW DID BOZEMAN'S DESIGN SCENE INSPIRE THIS SPACE?
SH: The design is very unusual for Bozeman, actually. Traditionally, Bozeman has been a town of single-family homes. As the city's grown, so have the number of town homes and multi-use developments. The design for this space was intentionally urban and edgy. We wanted this to feel different from most homes in the area that typically trend towards a Western vernacular.
WHAT DOES THE FUTURE HOLD FOR HOME DESIGN?
SH: The level of technology incoporated into the home will always be the decision of the homeowner, and it's different from client to client. I do believe we are seeing great strides in lighting and audio technology. I will always be a proponent of low-profile, integrated speakers and shade systems. And did I mention I am so excited about Human-Centric lighting?
SA: SAV Digital Environments is always open to ideas and collaborating in a way that everyone comes out satisfied. Whether or not a client is interested in an interactive mirror in the dressing room, like in this space, the idea here is to simply provide a platform for discussion and possibilities.