At Home in a Paradise Valley Barn
Once a horse barn, this wood-and-steel building is now a cozy guesthouse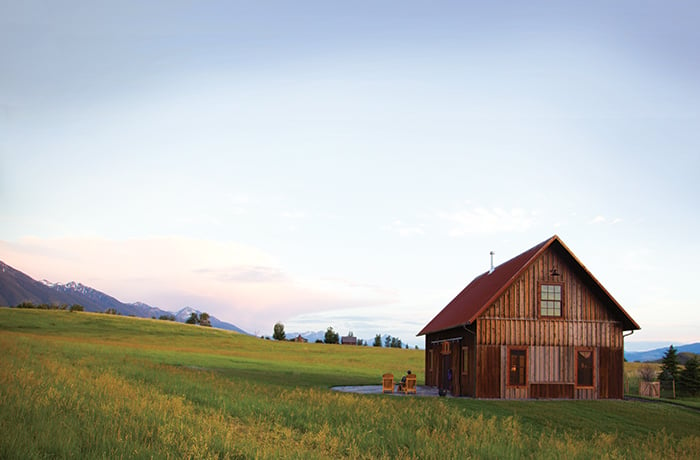 Southwestern Montana's Paradise Valley is the idyllic getaway: green pastures roll into the Absaroka and Gallatin Mountains on either side, hiking and mountain biking trails are abundant, and the charming town of Livingston is just a 15-minute drive north. For Les Solbeck, a Seattle resident and a self-proclaimed "city boy" all his life, it was the trout-packed Yellowstone River that originally drew him to the valley. He and his grown son David embarked on a five-day fly-fishing trip in the area in 1996—a vacation that eventually led to Les and his wife Linda buying a home on a 20-acre parcel that they could use for more frequent visits.
"I started coming here more and more to fish and became more and more depressed each time we had to go home to Seattle," Les explains.

On the guesthouse's west side, sliding barn doors open to a giant storefront window that welcomes in commanding views of the surrounding landscape.
The Solbecks' Montana escape turned into their full-time residence after about a year, which is when they began to put more thought into the home's surrounding landscape. The property included a small horse barn, which was just storage space until the Solbecks devised a better use for it.
"I never had an interest in riding horses, and Michelle [David's wife] is deathly allergic to them, so converting it into a guesthouse was a no-brainer," Les says.
With the help of Lucas Schad, principal of LTS Architecture in Livingston, the Solbecks transformed the 1,600-square-foot barn into a cozy two-bedroom space where David, Michelle and their daughter could live while welcoming a new baby.

In the main living space, a small-but-mighty wood-burning stove by HWAM bridges the gap between rustic and modern. "It was a must-have," says David Solbeck.
"It's such a peaceful place to retreat and enjoy life" – Homeowner Les Solbeck

Two Adirondack-style chairs provide a spot to share a drink and watch the sunset.
Besides a few siding repairs, the barn's original board-and-batten exterior and rusted steel roof were left intact. A massive aluminum-clad window was added behind the original west-facing barn doors, and sliding doors that lead to the back patio were installed on the home's east end. When the barn doors are open, the home floods with natural light and views of the surrounding peaks. Inside, the lofted area—originally used to store hay—was converted into the kids' space, while the main floor houses the kitchen, living room, master and guest bedroom/office combo. A mix of Midcentury Modern furnishings, reclaimed timbers and steel accents provides a style that teeters the line between rustic and contemporary.

The guesthouse's lush backyard provides David and his toddler with plenty of space to run and play.
Though David and Michelle now live in Denver full-time, they visit the Paradise Valley guesthouse about four times a year, where they catch up on reading, writing, outdoor adventuring and "exceptional sleep," David says. And when they're in Denver, Les and Linda loan the converted barn to lucky friends in need of rural refuge.
"Our friends, children and grandchildren love it," Les says. "And what a great thing to pass on to them in terms of a heritage—it's such a peaceful place to retreat to and enjoy life."
Design Details:
ARCHITECTURE LTS Architecture  CONSTRUCTION Tim Sutherland