An Interior Designer's Artful Jackson Home
Inside Agnes Bourne's contemporary mountain abode, complete with a guest apartment for visiting artists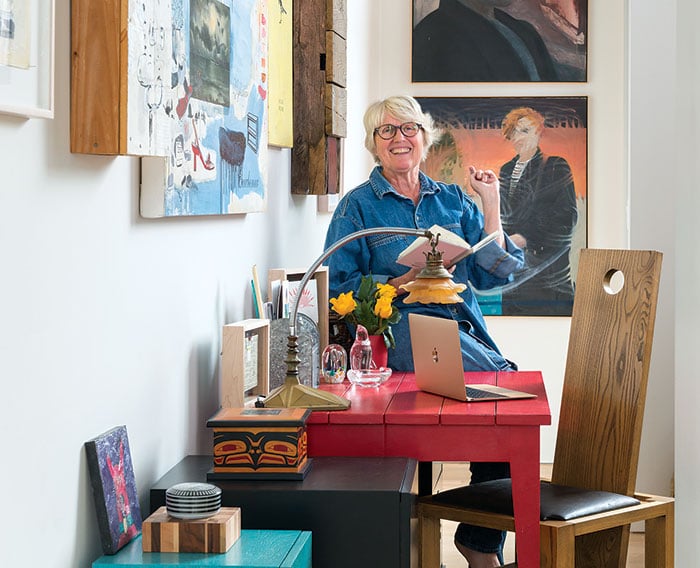 "Philanthropy can take many forms," says interior designer Agnes Bourne. "You just need to be creative." Bourne, a proponent of Lewis Hyde's "Created Commons," believes there are many forms of giving, and that philanthropy inspires other acts of sharing—so when she found a contemporary home next to the Riddells that included a lower-level guest apartment, it was the perfect location for her next act of philanthropy.
She tells the story of discovering in 1993 a historic building for sale in her San Francisco Pacific Heights neighborhood. Recognizing the historic Willis Polk-designed building as ideal for hosting the San Francisco Decorator Showcase, an annual fundraiser for University High School's scholarship program, Bourne bought the building. Forty designers created the Showcase and raised over half a million dollars for the scholarship fund. In 1995 the Cooper Hewitt, Smithsonian Design Museum, contacted her about securing the initial funding for a proposed building renovation project. The sale of the Showcase house provided the requested funding. So one act of philanthropy—buying the Polk house—morphed into multiple community benefits: saving a historic landmark, funding scholarships for a high school, and supporting expansion of the Cooper Hewitt Museum.
So when Bourne found the contemporary home next to the Riddell residence—with its great guest apartment—"I realized it would be a wonderful home for Stu and me, plus we could provide lodging for visiting artists to enhance the vitality of the arts community in Jackson."
The home is not an identical twin to the Riddells' house but more of a fraternal one—you can tell they are related; similar bone structure, yet each with its own personality.
During Bourne's first visit to Jackson Hole at the Triangle X Ranch in 1973, she fell in love with the area's beauty, the animals, the energy that comes from the magnificence of the setting. Since making Jackson her primary residence in 2000, she has built, designed and renovated eight residences. One home on the edge of Jackson's National Elk Refuge was for the sole purpose of hosting visiting artists. This new space would provide the opportunity for her again to open her home to artists.
Bourne has retired from her renowned interior design company, which also produced high-end upholstery and case goods products for the trade. Many of the furniture pieces in her home, like the lounge chair called The Chevy Chair in the living room, upholstered in turquoise leather—are collectible pieces originally produced by Agnes Bourne, Inc.
Since moving to Jackson, Bourne has devoted her time to design and arts consulting activities. She serves on the boards of Cooper Hewitt and Jackson Hole Center for the Arts. The Jackson apartment has been a success. "We've hosted the most interesting people," she says. "A woman who discovers unique spider species, and musicians, writers and artists who are inspired by the natural splendor of the mountains … Dancers' Workshop artists in residence, the director of Off Square Theatre's Thin Air Shakespeare, and the president of the San Francisco Art Institute," to name a few.
Bourne had briefly met Ed Riddell once during a photo shoot of one of her interior design projects. Since moving next door, the two couples have become fast friends. Bourne and Plummer are thrilled with their new location. "All the things we like to do—we can walk to. Art studios, the movie theater, Vertical Harvest." Even the fairgrounds, venue for Jackson's rodeo, are just a few blocks away. "The rodeo is our lullaby," she says.
Coat racks of found materials by Jackson artist Sam Dowd and a table by Jackson artist Barbara Gentry greet guests.
"The rodeo is our lullaby."
— Homeowner Agnes Bourne
Wooden dogs by Jim Lawrence, furry yak chairs and a ceremonial drum are surrounded by turquoise leather seating by Agnes Bourne and a wool rug from Christopher Farr.
A painting by California artist Raymond Saunders provides a dining room focal point. Dining chairs in maple and walnut are by Brian Boggs Chairmakers from Asheville, N.C.
A library compiled from years of studying and teaching art frames the food preparation area of the great room. A collection of cast bronze horses, small iron dogs, glazed ceramic cookie jars and a carved marble bust of Beatricci from Italy, 1850, line the kitchen counter.
Agnes Bourne in her studio, with portraits by Heidi Girardoni. The red desk is by Max Leiber, and the Tao chair and Trolley cabinets are by Agnes Bourne.
The guest bath showcases "Bad Lamp," by Jenny Dowd of Jackson, and "Citrus Half," a multi-color woodcut by Heidi Girardoni.
In the master bedroom, the painting is hand-textured plaster on canvas by Heather Gates. The runner is from Christopher Farr, and the antique carved chair is from Agnes Bourne's collection of primitive art.
DESIGN DETAILS:
ARCHITECTURE Farmer Payne Architects  INTERIOR DESIGN Agnes Bourne, Inc.
SEE ALSO:
An Artful Couple & Their Jackson Home
(Agnes) Bourne Identity: A Designer's Inspirations
This Jackson Home Underwent an Artful Transformation