A Tent-Inspired Retreat in Washington's Methow Valley
A family's perfect campsite in the forest, just a few strides from the country's largest cross-country ski trail network.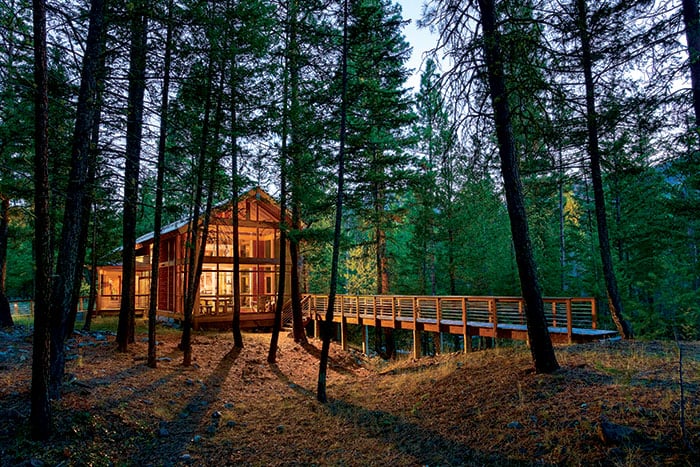 It was the perfect campsite. When a family of four from Portland, Oregon, discovered this bit of land sandwiched between North Cascades National Park, the Sawtooth Wilderness and the Pasayten Wilderness in Washington's Methow Valley, they fell in love with its rolling hills, towering trees and its location just a few strides from the country's largest cross-country ski trail network. For several years, the family returned here to camp, each time envisioning a more permanent home base for their adventures. At last, they were ready to build.
When architect Tom Lenchek first visited the site, he was drawn to two little hills. "One was kind of rocky and the other one was nice and had grass growing on it," he recalls. "I went over to the grassy one and said, 'This would be a great spot for the house.' But my client said, 'No! This is where we hang out. We don't want a house here.' So we built on the rocky hill."
The architect and homeowners agreed not to modify the rolling topography any more than necessary, so Lenchek envisioned the house as a tent, which he "dropped in between the nicest trees" and built atop a platform supported by concrete piers. The main entrance is located on one side of the structure. On the other side, a deck cantilevered some 20 feet above the ground offers sweeping views of the forest. Connected to that deck is one of the home's most striking features: a 60-foot-long footbridge that leads from the house to the owners' favorite grassy rise.
"It was a budget-driven house, so our goal was to keep it small," the architect says. The 1,650-square-foot plan includes a main-floor living/dining/kitchen area, plus a master bedroom, bathroom and utility room. Upstairs, a bunkroom, guest room, bathroom and loft are tucked under the steeply pitched roof.
A variety of tricks make the cabin feel larger. Each end of the high-ceilinged house opens onto an outdoor living space, welcoming in light and fresh air. The main living area features a wall of glass on one side and a large screened porch on another. "Even though the space itself is pretty tight, it feels much bigger because of the views," Lenchek says.
A simple palette of materials enhances the illusion of space: concrete floors colored a soft beige, sheetrock walls painted a warm neutral hue, a plywood ceiling, and exposed framing lumber. "This idea of an economy of materials was driven by function and budget," Lenchek says. "We used a lot of sheetrock, but exposing the structure was an inexpensive way to incorporate enough wood to make the space feel warm and inviting, like a cabin should."
DESIGN DETAILS:
ARCHITECTURE Prentiss Balance Wickline Architects [then Balance Associates Architects]
SEE ALSO:
A Modernist Treehouse
​A North Cascades Escape
A Modern Nest in the Forest of Whitefish, Montana
A Bedroom Among the TreesSaveSave