A Sun Valley Happy Place
A slope-side townhome is personalized to match the lifestyle and design aesthetic of its occupants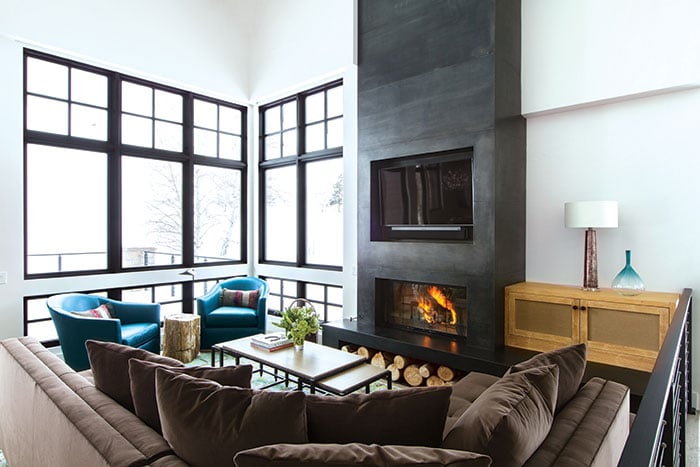 For a lucky London-based duo and their 16-year-old son, assessing the snow levels on Sun Valley, Idaho's Dollar Mountain or, come spring, checking out the first fairway located steps from their front door is as simple as looking out their living room window. "We call Sun Valley our happy place," says the wife, noting that despite being based in London, they routinely cross the pond to their mountain getaway.

An ABC Carpet rug informed the living room palette; the bunching coffee tables are by Vanguard Furniture.
Their townhome in the Elkhorn Springs complex is a custom upgrade from the condo they had used for a decade prior, the wife says. Builder/developer Dave Hennessy was building the final phase of the "duplex golf lodge" with architect Michael Brunelle designing the floor plans and the exteriors. "Instead of traditional gables, this building has a modern single-slope roof, which worked well with the owners' desire for customizing the unit with more modern materials inside," says Hennessy.

Metal cables and open treads matched to the home's pre-engineered oak floors define the staircase.
To address the challenges of shaping the space and drawing the eye inward, the homeowner turned to interior designer Jennifer Hoey Smith. Knowing what she didn't want—"river rock, low ceilings and any yellowish, knotty wood," the homeowner relied on Smith to define her mountain style. After making some minor tweaks to the layout, the designer incorporated an open-tread staircase with metal cables and painted the wood window and door frames black to mimic an industrial metal.
Along with contrasting stark white walls, crisp 10-foot-high white kitchen cabinets, and pre-engineered French oak floors—a rustic nod to the surroundings—Smith established the backdrop for the layers to come. "The homeowner was open to going in a modern direction, but I saw what we were doing as more classic and transitional than modern," she says.
"With Jennifer's help, I stepped outside my comfort zone." — The Homeowner

Arteriors counter stools belly up to the kitchen island while Hans Wegner Wishbone chairs from DWR provide seating around a custom dining table. The chandelier is from Ochre in London.
To create a focal point in every room, the homeowner discovered Ochre, a lighting and furniture design studio serendipitously located in London. "My husband and I went to the showroom to see another light fixture. We walked in and saw Seed Cloud and both immediately knew that it was the perfect anchor for the room," says the wife, referencing a chandelier distinguished by an intricate interplay of cast bronze stems with LED-illuminated tempered glass drops that she immediately envisioned in the dining room. "There are no other hanging lights in the space, and we kept all the furniture below hip level so when someone walked into the house, your eye would be drawn to the chandelier, which is really a piece of art!"
More importantly, the sparkly lighting doesn't impede the view. "We liked the airiness because you can see right through it," says Smith, who proceeded to select low-profile furnishings that were easy to look over. A custom-designed chocolate brown velvet sectional, for example, offers a cozy locale for fireplace gazing, and a multi-colored silk rug purchased by the client during a trip to New York provided inspiration for the pair of low-profile blue leather chairs. "It was refreshing to work with someone who wanted to have fun with color," she adds.

Master bedroom elegance is accomplished with a Kravat bed cloaked in Holly Hunt fabrics, nightstands by Mr. Brown and a Tibetan lamb bench from Outpost Original. Kelly Wearstler velvet tops the Bernhardt chair.
Mountain meets modern in the adjacent dining room, where a set of midcentury Wegner Wishbone chairs surrounds a distressed wood table. Across the way the quartzite waterfall slab that flows over the rich espresso-stained island cabinets represents the classic part of the motif while brushed brass barstools are a playful chic interjection.
In the master bedroom, the tight chenille headboard, throw pillows with pom-pom accents, and a bench topped with sheepskin accentuate the calm while the shiny brass-plated side chair is the requisite attention grabber. "I love the more relaxing colors in the bedroom," says the wife. "With Jennifer's help I pushed through a lot of self-imposed creative limitations and stepped outside my comfort zone to achieve what we ended up calling 'Mountain Chic,'" she adds. The result is a welcoming home with sophisticated flair that embraces its incredible surroundings.

Fire gazing takes place on an A. Rudin sofa wearing Holly Hunt velvet. The Lee Industries armchairs tout Moore and Giles peacock-colored leather reminiscent of the Sun Valley sky, and the petrified wood side table is by Bernhardt.
BLING TIME
For a pair of homeowners with ties to the entertainment industry, the request for a little bit of glam in their mountain retreat came as no surprise. Designer Jennifer Hoey Smith obliged with an array of items that span the spectrum from subtle to wow.
TUFTING On the quiet end, tufting on a living room sectional or an ottoman provides a hint of that Hollywood aesthetic. TEXTURE Shagreened nightstands impart boudoir-level luxury into any master suite along with sensuous sheepskin throws and a touch of Lucite. SHINE ON Whether it's obvious, like a statement chandelier, or it arrives in a more refined package, like brushed brass door pulls, metals are an easy glam addition in any environment. Mixing metals such as blackened steel with brighter metal finishes provides contrast and sparkle to a space. Blackened steel is a neutral finish, so anything can pair  with it, whether it's brushed brass, rose gold, copper or nickel.
DESIGN DETAILS
ARCHITECTURE Brunelle Architects INTERIOR DESIGN Jennifer Hoey Smith CONSTRUCTION Hennessy Company