A Ski Cabin Makes a Backcountry Comeback
This city family created a perfect rustic-modern retreat for relaxed weekends in the Tahoe wild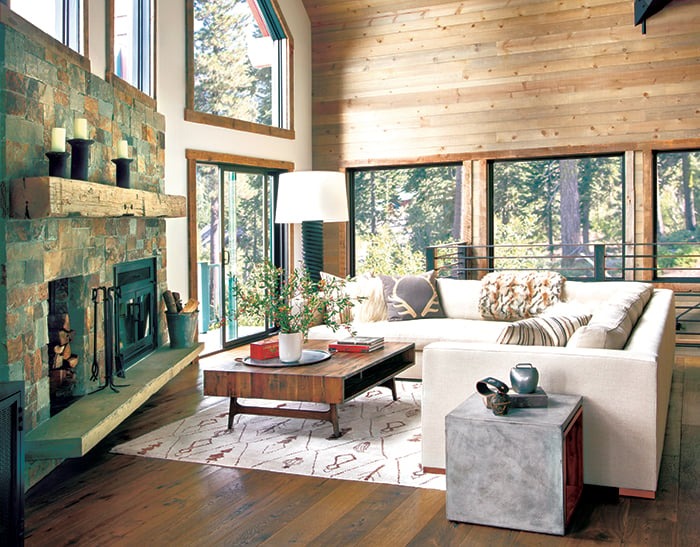 The sun-filled cabin was a hidden gem just waiting to be discovered. Tucked into Ward Canyon, a remote area near Lake Tahoe, the outdated '90s-era home was embraced by a wild and beautiful backcountry setting. "Unless you really know how to get in there, it's hard to find," explains interior designer Diana Vincent, of Truckee, California, based High Camp Home. "Once you're back in there it's spectacular, with gorgeous views and mountains surrounding you."
That adventure-friendly location just happened to be a perfect fit for Suzanne and Eric O'Brien and their two kids. Eric had grown up skiing at nearby Alpine Meadows Ski Resort, and he had always wanted to find a home there for his own family. Fate and friends—who invited the O'Briens for what Suzanne calls "a magical weekend" at their Ward Canyon getaway—conspired to charm the ski-loving Bay Area family. "I said, I think I could see finding a place to lay down some roots and build some awesome family memories," Suzanne O'Brien remembers. That was July 4, and the family didn't waste any time. By Labor Day, the cabin around the corner was theirs.
"It wasn't exactly our style or our taste, but it was perfectly fine for a mountain cabin," Suzanne admits. Although she was initially reluctant to go all-in on a complete remodel, her husband managed to convince her, and she's glad he did. Together they chose Diana Vincent, whose aesthetics looked like a good match for their own. "You've got to go with whoever's got the secret sauce that is going to make your project exactly what you're envisioning," Suzanne says.
"You've got to go with whoever's got the secret sauce…" — Homeowner Suzanne O'Brien
Vincent relished the challenge of updating the cabin, despite—or perhaps because of—its extreme location. "The snow piles up to cover the entire first floor in the winter, and the avalanche danger in the area is real," she marvels. The home's layout was a primary concern. "When I first went into it, it was really chopped up, nothing really flowed; the dining room was completely separate from the kitchen, and the kitchen was divided off from the rest of the main living space, so we really wanted to open that up," Vincent says. "The house has a lot of great natural light, and that's a big thing for me as a photographer," Suzanne O'Brien adds. "We wanted to keep that inside-outside feeling."
Vincent replaced the home's original dark colors with lighter monochrome tones that opened up the space and made it feel much larger. She also maximized each room's potential by cleverly stealing extra space wherever she could find it—building storage lockers beneath the stairway in the all-important mud room, crafting a sleek built-in desk and shelves in the office loft, and converting an upstairs closet and small bathroom into a reimagined master suite.
The interiors are simple and modern, balanced with a vintage vibe expressed in the choice of materials—gray-stained wood, burlap, linen, distressed leather and raw metal. "It's that little bit of an ode to the rustic mountain home," Vincent explains. "It's great to add the modern design and décor, but I feel that in order to ground a home in Tahoe, or in any mountain community, it's important not to completely ignore your roots and ignore your environment."
The overall feeling of light and warmth suits the family's easy style: Casual gatherings center on puzzles and board games, and friends they meet on the ski slopes are often invited for dinner at the end of the day. The rejuvenated cabin has become a welcoming hideaway from the busy world. As Suzanne O'Brien explains, "We just wanted it to be a space where we could relax and enjoy simple, uncomplicated time with family and friends."
The mud room lockers add a fun punch of color beneath the stairs.
The open dining area is designed for casual family gatherings. A custom metal cabinet stores games and puzzles. The dining table's wood-and-steel structure echoes the nearby stairs, relaxed retro chairs have quilted leather details, and oversize lights play with scale.
Vincent maximizes space in the office loft with a built-in desk, shelves, and custom cabinets designed to match those of the clean-lined white kitchen below. Simple bistro stools provide seating at the reclaimed wood-clad breakfast bar.
The updated living room is light and bright, with pale pine walls. A cozy custom sectional sofa faces the rebuilt, clean-lined fireplace, topped by a reclaimed timber mantel.
The airy master bedroom's natural linen color palette, wooden headboard and leather-fronted bedside tables are fresh with a vintage vibe.
​A striking cow skull hangs above a freestanding tub in the dramatic master bathroom, with a honed marble floor and a Restoration Hardware vanity lit by soap-bubble-like glass pendants.
DESIGN DETAILS:
INTERIOR DESIGN High Camp Home  CONSTRUCTION NSM Construction