A Fresh Adventure: Canada's Nimmo Bay Wilderness Resort
Where the emerald mountain rainforest meets the blue ocean waters, Canada's Nimmo Bay Wilderness Resort offers warm coastal comforts and extraordinary expeditions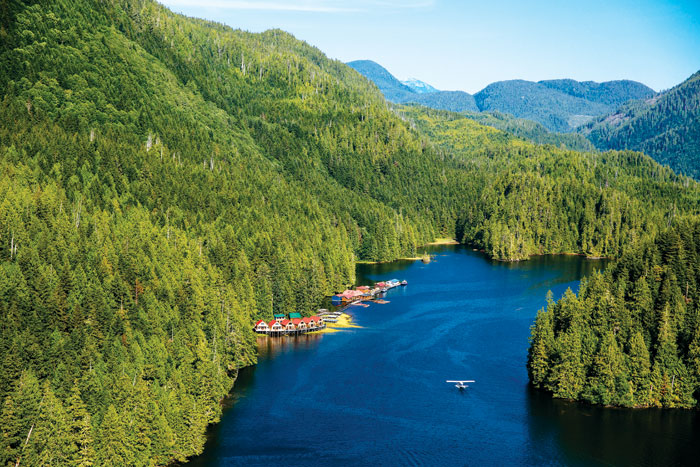 If you're looking for the road to Nimmo Bay, don't bother. The only ways to reach this spectacular wilderness outpost on the island-studded edge of British Columbia are by air or by sea. But oh, is it worth the trip.
The family-owned and -operated Nimmo Bay Wilderness Resort is a jewel in the vast Broughton Archipelago, sparkling at the foot of 5,223-foot Mount Stephen in the world's largest intact coastal temperate rainforest, the Great Bear Rainforest. It's an area rich in heritage for Canada's First Nation people, with misty groves of towering old-growth red cedars, sheltered coves and undeveloped islands.
The resort is intimate, with accommodations in six red-roofed intertidal cabins and three green-roofed streamside cabins. There's a lodge with a bar and a supply of musical instruments for festive revels, and a floating fire dock furnished with a circle of Adirondack chairs and cozy blankets. If water is what you crave, then this is the place for you. At Nimmo Bay, even the power is hydroelectric. There are cedar hot tubs, a rainforest rain shower and a waterfall plunge pool to offer relaxation on land, but it's Nimmo Bay's vast maritime playground—50,000 square miles of coastal and mountain wilderness—that begs to be explored and enjoyed.
The resort offers a huge menu of excursions that will whisk you from sea level to 13,000 feet. And all the gear you'll need is already here: From wool socks to fishing lures to open-water storm suits, Nimmo Bay is ready to dress you up and send you off. Helicopter day trips include heli-fishing—taking advantage of 50 isolated waterways teeming with wild Pacific salmon and trout—and heli-hiking on 10,000-year-old glaciers. The resort's grizzly bear viewing expeditions are particularly spectacular: One begins with a 1.5-hour boat ride, followed by an SUV ride into the mountains, then a hike to the Kakweiken River (crossing via a boat-and-pulley system) to an A-frame viewing cabin beside a waterfall and fish ladder where you can watch the grizzlies come to feed.
Nimmo Bay provides guests with a stylish and cozy home in the wilderness, where once-in-a-lifetime adventures are just waiting to be had.
Far from the madding crowd: The quiet crystalline waters of Queen Charlotte Strait, flowing between mainland British Columbia and Vancouver Island, offer a wealth of recreational opportunities. Nimmo Bay Resort provides everything you need for a day of whale watching, sea kayaking, paddle boarding, windsurfing or snorkeling. The staff will even pack gourmet picnics for boat trips to remote white shell beaches or launch you on a romantic sunset Champagne cruise.
Water, water, everywhere: The sea, fog and mist wreathe the shoreline and flavor the days at Nimmo Bay. Chef-crafted coastal cuisine showcases locally sourced ingredients. Fifty-thousand square miles of remote natural beauty provide striking settings for wildlife viewing and outdoor activities. Colorful clusters of intertidal cabins, built with spruce, pine and fir harvested nearby, offer waterfront accommodation with crisp and cozy West Coast charm. Each simple yet luxurious two-bedroom cabin has a welcoming front porch equipped with a friendly pair of rocking chairs.
IF YOU GO
All-inclusive packages start at $1,535 per person, per day, for the Wilderness and Wildlife Adventure Package. That price includes round-trip transportation to Nimmo Bay on a chartered float plane, all meals and house alcohol, guided hiking and kayaking, boat tours, waterfall visits, bear and whale watching, gourmet picnic lunches, use of all resort amenities, accommodation in private cabins, wireless Internet, pool table and game room, and satellite television. Premium alcohol, fishing licenses, spa treatments, taxes and gratuities are extra. nimmobay.com
(Your travels to and from Nimmo Bay may bring you to Vancouver. Check out what Mountain Living loves about the city here: When in Vancouver: 10 Things to Do.)