5 Mountain Home Architecture Trends in 2019
Get that timeless alpine design with these luxurious features, sure to please for decades to come.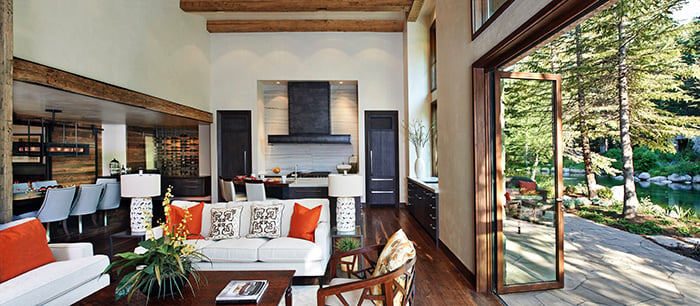 When it comes to residential architecture in the mountains, certain trends—like grand fireplaces and gorgeous views—pass the test of time, while others fall by the wayside.
If you're building a Rocky Mountain home in 2019, make sure your alpine design incorporates these luxurious architectural features, sure to please for decades to come.
The kitchen as a work of art
The kitchen is becoming even more of a central statement in the home. With more interest in kitchen hoods, larger square-footage, slab backsplashes—even windows as a backsplash—these culinary spaces are transitioning from the wings to the main stage. While the dining and living rooms are great gathering spaces, the kitchen is the hub connecting them all.
Windows, windows, windows
Windows are the biggest trend these days, and for good reason. American window companies are finally catching up to European window companies when it comes to large panes of glass. They're also making their windows even more clean and contemporary, allowing for amazing walls of unobstructed views. Rooms are becoming even more transparent in all the right ways—inviting gorgeous landscapes into every corner.
Indoor-outdoor living
The connection between the indoors and the outdoors is a trend that never dies, but more than anything, people are aiming for a seamless co-mingling of the two. A common request is not necessarily to create a distinct outdoor space but to open the interior to the outdoors so that people can live like they're outside while staying in the house.
Timelessness
People are increasingly interested in a timeless design—perhaps in direct opposition to the pervasive trend of mountain-modern homes across the Rocky Mountain West. Homeowners are looking to go back to the basics, with a more transitional style and textures that speak to the home's rustic surroundings.
Natural materials
Wood, stone, and marble are on the rise in mountain home design. The stone-slab look is particularly gaining momentum.
Kyle H. Webb, AIA is the principal at KH Webb Architects PC, a Vail, Colorado-based design and architecture firm. View their profile or reach Kyle at 970-477-2990.
Content for this article provided by KH Webb Architects.