3 Gorgeous Trends in Green Home Design
Energy-efficient, eco-friendly, and easy on the eyes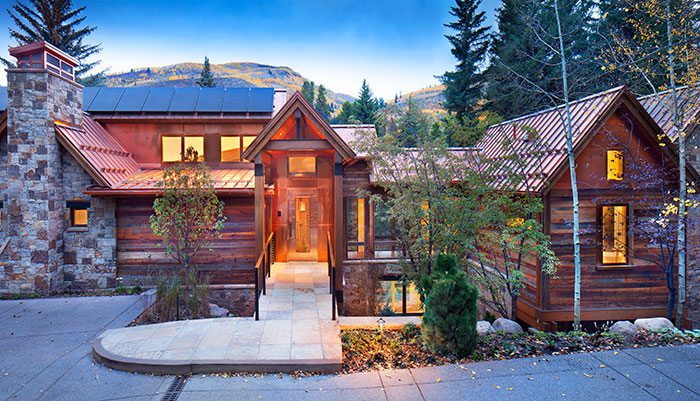 It's becoming ever more popular for people to build their homes with a passion for the environment in mind—minimizing waste, decreasing energy use, and reclaiming materials. But an energy-efficient and eco-friendly home doesn't have to mean skimping on aesthetics.
Here are three ways green residential features and gorgeous home design are evolving in the same direction.
1. SOLAR PANELS
The most likely vision that pops into your head when you hear solar panels is a roof covered in raised metallic planks—as if they've been arbitrarily placed on top of the house.  But with the increasing popularity of solar panels has come an innovation in home design: integrating solar panels into the architecture. You can design a deeper roof so that the panels are not raised and are instead flush with the adjacent roof materials—minimizing the visual impact of the solar panels.
2. DECONSTRUCTED MATERIALS
Deconstruction is becoming a popular way to start a home build—as opposed to just demolition. Deconstruction is the careful "un-building" of the house so that you can salvage, reuse, or donate as many products as possible, whereas with demolition the materials would be knocked down and then thrown into a landfill.
With more people deconstructing their homes come more materials to reclaim.  Reclaimed brick, for example, can add a beautiful rustic character to a new home. Perhaps the most popular is the use of reclaimed wood siding and beams. Reclaimed flooring gets even more interesting; since thicker wood slabs were used in the past, they can be refinished to their original glory and pack a powerful visual punch.
And then there's bamboo flooring. Bamboo is a sustainably harvested, fast-growing wood that can create gorgeous wood floors. Although bamboo can be softer and sometimes less durable, environmentally, it's hard to argue with a wood substitute that matures in three years, regenerates without need for replanting, and requires minimal fertilization or pesticides.
3. WINDOWS
What used to be small windows 10 and 20 years ago are now giant window walls that don't sacrifice energy-efficiency. Most of that is due to high-performance glazing and thermally broken frames. There are multiple clear films that help with window performance, and the advent of these has been quite revolutionary. On top of that, the technology of steel windows that open up and employ fewer mullions has enabled the sizes of glass panes to get bigger and the mullions thinner. Now more than ever, green-minded homeowners can tout floor-to-ceiling views of the mountains while still saving energy.
David Hyde is the President of Shaeffer Hyde Construction, a luxury homebuilder, comprehensive general contracting, and construction management company based in the mountains of Colorado. View their profile or contact David at 970.845.5656.
Content for this article provided by Shaeffer Hyde Construction. SaveSave