The ML List: Top Architects & Designers 2019
Our guide to the Best in the West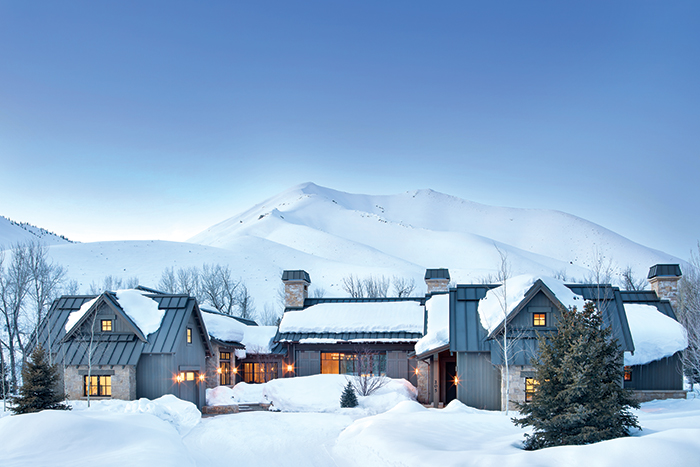 The editors of Mountain Living are pleased to present an exclusive guide to the most influential architects and interior designers at work in the West today. With recommendations from clients, vendors, professional organizations and ML readers, we've carefully compiled a list of top talent.
The list is organized by state and town to make it easy for readers to find help in their regions. Some architects have more than one office, and we have listed only their main corporate location.
Those who were featured in Mountain Living during the past two years receive a special highlight mentioning their most recent project as of January/February 2019. (Architects and designers featured during the past two years but located in an area outside of Mountain Living's territory are grouped together at the end of the list.)
The list is illustrated with a few of our favorite high-country spaces featured in the pages of Mountain Living over the past year.
COLORADO
Aspen/Basalt/Carbondale/Glenwood Springs/Snowmass
ARCHITECTS:
Baker Design Group 970-379-7804

Photo by David Patterson
Brewster McLeod Architects 970-544-0130
August 2017, page 110 or Rock-Solid and Light-Filled in Telluride

Photo by David Patterson
Charles Cunniffe Architects 970-925-5590
July 2018, page 126 or Small Space, Grand Style
CCY Architects 970-927-4925
Jan./Feb. 2019, page 134 or A Norwegian-Inspired Aspen Home
David Johnston Architects 970-925-3444
Forum Phi Architecture 970-376-3520
Galambos Architects 970-429-1286
Green Line Architects 970-963-6689
Hagman Architects 970-927-3822
Harry Teague Architects 970-927-4862
Jeffrey Berkus Architects 970-925-7017
KA Designworks 970-948-9510
Lea Sisson Architect 970-925-1224
Lipkin Warner Design & Planning, LLC 970-927-8473
Manchester Architects 970-923-4411
Mata Design Company 970-274-6011
Michael Fuller Architects 970-927-6620
Poss Architecture & Planning 970-925-4755
Robert G. Sinclair Architecture 970-925-4269
Rowland+Broughton Architecture/ Urban Design/ Interior Design 970-544-9006
Studio B Architecture+Interiors 970-920-9428

Photo by Aubree Dallas
Theodore Guy Associates 970-927-3167
Jan./Feb. 2018, page 144 or A Red Mountain Remodel
Zone 4 Architects 970-429-8470
INTERIOR DESIGNERS:
Anne Grice Interiors 970-429-4148

Photo by Emily Minton Redfield
Barbara Glass, Inc. 970-309-4196
July 2017, page. 102 or A Mesa-Top House in Aspen
Cathers Home 970-927-6556
Della & Zella Interiors 970-710-2047
ID Interiors 970-925-4342
JH Todd Interiors, Inc. 970-987-1148
Karen White Interior Design 970-927-3036
Kristin Dittmar Design 970-300-4688
Lanthia Hogg Designs 970-948-3047

Photo by Aubree Dallas
Lauren Scannell Design 317-730-3783
Jan./Feb.2018, page 144 or A Red Mountain Remodel
Poss Interior Design 970-925-4755
Robyn Scott Interiors 970-927-5354

Photo by David O. Marlow
Studio 133 970-9963-0424
2017 Home of the Year Winner
Nov./Dec. 2017 page 97 or 2017 Home of the Year: An Aspen Grand Legacy
Rowland+Broughton Architecture/ Urban Design/ Interior Design 970-544-9006
Weber Interior Design 970-948-2848
Weiss & Wirth Interior Design 970-945-5701
Boulder/Louisville
ARCHITECTS:

Photo by Emily Minton Redfield
Arch11 303-546-6868
May/June 2018, page 102 or A Jewel-Box Home in Colorado
Barrett Studio Architects 303-449-1141
David A. Beal & Associates 303-443-9613
Fänas Architecture 303-444-5380
Folwell Studios Architecture 720-334-1168
Gettliffe Architecture 303-449-9155
KGA Studio Architects 303-442-5882

Photo by Dallas & Harris Photography
Mosaic Architects & Interiors 303-247-1100
March/April 2018, page 92 or 6 Fabulous Kitchens ("It's Only Natural")
MQ Architecture & Design 720-565-3929
Rodwin Architecture 303-413-8556
Stillwater Architecture 720-441-7460
INTERIOR DESIGNERS:
Keira Ritter Design Company 303-485-8939
Breckenridge/ Copper/Frisco/ Keystone
ARCHITECTS:

Photo by Emily Minton Redfield
Allen-Guerra Architecture 970-453-7002
July. 2017, page 112 or A Contemporary Castle With a Twist
Arapahoe Architects, P.C. 970-453-8474
BHH Partners Planners/Architects 970-453-6880
Matthew Stais Architects 970-453-0444
INTERIOR DESIGNERS:
Collective Designs + Furnishings 970-668-4308

Photo by Lauren Ruehring, courtesy of Kitchenscapes
Harmony Interiors 970-668-0291
March/April 2018, page 94 or 6 Fabulous Kitchens ("Mix & Mingle")
Interiors by Design 970-453-9020
Markel Design Group 970-668-1781
Crested Butte
ARCHITECTS:

Photo by James Ray Spahn
Daniel J Murphy Architect, P.C. 970-349-1200
Sept./Oct. 2017, page 138 or Having it All in this Crested Butte Home

Photo by James Ray Spahn
Sunlit Architecture 970-349-5311
​Sept./Oct. 2018, page 118 or These 4 Powder Rooms Pack a Design Punch
INTERIOR DESIGNERS:

Photo by James Ray Spahn
Interni Design Studio 970-596-4586
Sept./Oct. 2017, page 138 or Having it All in this Crested Butte Home
Interior Visions 970-209-6332

Photo by James Ray Spahn
Studio West 970-349-7550
Sept./Oct. 2018, page 118 or These 4 Powder Rooms Pack a Design Punch
Denver Area
ARCHITECTS: 
AJA Studio 970-376-2575
Architectural Workshop 303-788-1717
Blueline Architects 303-893-0346
Earl Anderson Architects 720-529-8828
Micheal Perez Architect 303-688-7948
OZ Architecture 303-861-5704
Ruggles Mabe Studio 303-355-2460
INTERIOR DESIGNERS:
Andrea Lawrence Wood Interior Design 303-333-0599

Photo by Emily Minton Redfield
Andrea Schumacher Interiors 303-458-6462
July 2017, page 112 or A Contemporary Castle With a Twist
Ashley Campbell Interior Design 303-996-6195
Associates III 303-534-4444
D'Amore Interiors 303-422-8704
Design One Interiors 970-453-2813
Djuna Design Studio 303-355-3500

Photo by Eric Lucero
Duet Design Group 303-783-9327
Jan./Feb. 2019, pg. 162 or Sophisticated Comforts in a Vail Village Condo
Griffith Interior Design, LLC 303-945-1212
Harrison Browne Interior Design 970-309-5472
HW Home 303-394-9222
Jeffrey P. Elliott Interior Design 303-860-0109
Petra Richards Interiors 720-201-1999
rebaL design 303-818-6306

Photo by David Patterson and Kevin Dietrich
Studio Como 303-296-1495
August 2018, page 142 or A Modern Vacation Home in Grand Lake
Durango
ARCHITECTS:
Feather & Gill Architects 970-375-2195
Steve Gates Architect 970-259-0726
INTERIOR DESIGNERS:
Candent Design 970-903-2509
Golden
ARCHITECTS:
TKP Architects 303-278-8840
Kremmling
ARCHITECTS:
Eggers Architecture, Inc. 970-724-3411
Longmont
INTERIOR DESIGNERS:
Rohde Design 303-444-6498
Steamboat Springs/Hayden
ARCHITECTS
Axial Arts Architecture 970-276-7295

Photo by David Patterson
Gerber Berend Architecture and Construction 970-879-1725
March/April 2018, page 124 or Historic Meets Modern in Steamboat Springs

Photo by Paul Dyer
Kelly & Stone Architects 970-875-0590
March/April 2018, page 91 or 6 Fabulous Kitchens ("Into the Woods")
Michael J.K. Olsen, Architects 970-870-1584
Steamboat Architectural Associates 970-879-0819

Photo by David Patterson and Kevin Dietrich
Vertical Arts Architecture 970-871-0056
August 2018, page 142 or A Modern Vacation Home on Grand Lake
INTERIOR DESIGNERS:
Home on the Range 970-870-6777

Photo by David Patterson
Rumor Designs 970-819-9721
July 2018, page 134 or A Modern Vision in Colorado High Country
Stēl House & Home 970-871-0057
Telluride
ARCHITECTS:
Bercovitz Design Architects 970-728-4555
Craig Melvin Architects 970-728-5251
E Cummings Architect 970-728-8177
FUSE Architecture & Interior 970-728-0841

Photo by Christopher Marona
Narcis Tudor Architects 970-708-4983
March/April 2016, page 82 or A Guesthouse Mistaken for an Anasazi Ruin
One Architects 970-728-8877
Sante Architects 970-728-6102
Strang Architecture 305-373-4990
Trulinea Architects 970-708-1445
Tommy Hein Architects 970-728-1220
INTERIOR DESIGNERS:
Evoke Interiors 970-729-0906
Luxwest Interiors 970-728-8238
Studio Frank 970-728-0662
Tribe Interior Design 970-688-0505
Tweed Interiors 970-728-8186
Winter Park/Granby
ARCHITECTS:
Munn Architecture 970-887-9366
Vail/Beaver Creek/Avon/Edwards/Eagle
ARCHITECTS:
ALM Architects 970-328-9690
Andre Pierce Architecture/ Resort Design Architects 970-949-0899
Berglund Architects, LLC 970-926-4301
Current Architects 970-331-6345

Photo by Kimberly Gavin
Gies Architects 970-328-9280
July 2018, page 142 or An Enlightened Renovation in Beaver Creek
Isom & Associates 970-328-2388
Judge & Associates 970-949-7034
K.H. Webb Architects 970-477-2990
Pierce Architects 970-476-6342
Piper Architecture, Ltd. 970-949-7074

Photo by David O. Marlow
RKD Architects, Inc. 970-926-2622
March/April 2018, page 100 or A Nearly Transparent Home in Utah
RMT Architects 970-949-0916
Segerberg Mayhew Architects 970-476-4433

Photo by Gibeon Photography
Shepherd Resources, Inc. 970-949-3302
Sept./Oct. 2018, page 120 or A Trio of Historic Cabins, Reimagined
Suman Architects 970-479-7502
TAB Associates, Inc. 970-766-1470
Zehren & Associates 970-949-0257
INTERIOR DESIGNERS:
Carol Moore Interior Design 970-926-4188
Casey St. John Interiors 970-376-0238
Greenauer Design Group 970-477-1783
J&O Studio 970-390-9384
Lyon Design Group 970-926-8682
Reed Design Group 970-390-3554

Photo by Kimberly Gavin
Slifer Designs 970-926-8200
July 2018, page 142 or An Enlightened Renovation in Beaver Creek

Photo by Kimberly Gavin
Studio 80 Interior Architecture & Design 970-337-4770
March/April 2018, page 116 or From Unusual Building Site to Clever Home

Photo by Kimberly Gavin
Worth Interiors 970-949-9794
Jan./Feb. 2018, page 128 or A Ski Condo with Sophisticated Neutrals
IDAHO
Boise
INTERIOR DESIGNERS:
Cornerstone Design 208-384-1422
Kieffer Design Group 208-344-2680
Sun Valley/Hailey/Ketchum
ARCHITECTS:
Anderson Architecture, P.A. 208-726-6054
Architect Susan Desko, AIA 208-726-0155
Burdge & Associates Architects 208-495-3228

Photo by Heidi Long
Jarvis Group 208-726-4031
Sept./Oct. 2018, page 152 or A Sun Valley Love Affair
Mark Pynn Architect 208-622-4656

Photo by Gibeon Photography
McLaughlin & Associates Architects 208-726-9392
Jan./Feb. 2018, page 118 or A Sun Valley Home With SoCal Vibes
Michael Blash & Associates 208-720-3597
Michael Doty Associates, Architects, P.C. 208-726-4228
Ruscitto Latham Blanton Architectura, P.A. 208-726-5608
Scape Design Studio 208-720-9714
Williams Partners Architects 208-726-0020
INTERIOR DESIGNERS:

Photo by Ray Gadd
Jennifer Hoey Interior Design 208-726-1561
Jan./Feb. 2019 page 156 or A Sun Valley Happy Place
The Picket Fence Interior Design 208-726-5511
Sand Point
ARCHITECTS:
Sayler Owens Kerr Design Studio 208-265-9160
Hendricks Architecture 208-265-4001
MONTANA
Big Sky/Bozeman/ Livingston/Billings
ARCHITECTS:
Bitnar Architects 406-587-1983

Photo by Audrey Hall
Brechbuhler Architects 406-522-0369
May/June 2018, page 96 or A Mountain House With a Veterinarian Twist
Centre Sky Architecture, Ltd. 406-995-7572
Jan./Feb. 2019, page 150 or Slope-Side Living in Montana
Comma-Q Architecture, Inc. 406-585-1112
Design Partnership, Inc. 406-587-3434
Ensitio Design & Architecture 406-209-8330
Faure Halvorsen Architects 406-587-1204
High Plains Architects 406-896-0250

Photo by Matthew Millman
JLF Architects 406-587-8888
Sept./Oct. 2018, page 128 or Mountain Mixture
Kirk Michels Architects 406-222-8611

Photo by Audrey Hall
Locati Architects 406-587-1139
March/April 2018, page 108 or A 1990s Home Gets a Contemporary Refresh

Photo by Sophi Davis
LTS Architecture 406-333-0533
Sept./Oct. 2018, page 80 or At Home in a Paradise Valley Barn
Miller-Roodell Architects, Ltd. 406-551-6950
Jan./Feb. 2019, page 142 or A Curated Cabin in Bozeman

Photo by Audrey Hall
Pearson Design Group 406-587-1997
Sept./Oct. 2017, page 154 or A Playful Home Built on History

Photo by Audrey Hall
Reid Smith Architects 406-587-2597
Sept./Oct. 2018, page 116 or These 4 Powder Rooms Pack a Design Punch
Stonehorse Design 406-586-8428
Studio Ryker 406-220-1099
Studio Architects 406-586-4777
INTERIOR DESIGNERS:
Abby Hetherington Interiors 406-404-1330
Jan./Feb. 2019, page 142 or A Curated Cabin in Bozeman
Design Associates 406-582-8979
Elliott Interior Design 406-551-3995
Envi Interior Design Studio 406-585-1765
Erika & Company 406-993-2668

Photo by Gibeon Photography and Gravity Shots
Haven Interior Design 406-522-4188
Sept./Oct. 2017, page 146 or A Castle on a Hill
Kibler & Kirch 406-384-0280

Photo by Gorgon Gregory
Laura Fedro Interiors 406-586-0122
July 2017, page 132 or A Home That Builds on Tradition

Photo by Gibeon Photography
Locati Architects & Interiors 406-587-1139
Jan./Feb. 2018, page 136 or This Big Sky Home is the Opposite of Rustic

Photo by Gibeon Photography
Pearson Design Group 406-587-1997
May/June 2016, page 78 or A Hideaway on the Shore of Flathead Lake

Photo by Audrey Hall
Urbaine Home 406-577-2557
May/June 2018, page 96 or A Mountain House With a Veterinarian Twist
Varda Interiors 406-586-3883
Kalispell/Whitefish
ARCHITECTS:

Photo by Heidi Long
CTA Architects Engineers 406-257-8172
July 2017, page 122 or A Summer Cabin Redefined

Photo by Gibeon Photography
Fullerton Architects 406-837-1550
August 2018, page 150 or A Montana Home for Sharing
Phillips Architecture & Planning, Inc. 406-407-0247
INTERIOR DESIGNERS:
Ciao Interiors 406-755-7373

Photo by Gibeon Photography
Hunter & Company 406-862-1402
August 2018, page 150 or A Montana Home for Sharing
Lyndon L. Steinmetz Design Studio, LLC 406-257-5463
Sage Interior Design 406-862-2193
Tate Interiors 406-862-5777
Faulkner Architects 530-582-7400
Transitions 406-250-3094
Missoula
ARCHITECTS:

Photo by Gibeon Photography
Paradigm V2 Architects 406-549-6120
Aug. 2017, page 116 or An Ultra Modern Missoula Home
INTERIOR DESIGNERS:
Broeder Design 406-544-8185
Shannon Callaghan Interior Design 406-542-2213
Robyn Woodhall Design & Lifestyle  406-360-1122
NEVADA/CALIFORNIA
Lake Tahoe/Truckee
ARCHITECTS:
Dale Cox Architects 530-550-9144
JLS Design 530-587-5232
Nicholas J. Kromydas, Architect 530-525-5831

Photo by Gibeon Photography
Ryan Group Architects 530-587-3800
August 2018, page 126 or A Tranquil-Yet-Dramatic Lake Tahoe Home

Photo by Vance Fox
The Sandbox Studio 530-583-8822
Nov./Dec. 2017, page 136 or A Pond-Side Home in Truckee
Todd Gordon Mather Architect 530-414-4662

Photo by Kat Alves
Walton Architecture + Engineering, Inc. 530-583-369
Nov./Dec.2018, page 148 or Inside-Out Harmony
Ward-Young Architecture & Planning 530-587-3859
INTERIOR DESIGNERS:
Aspen Leaf Interiors 530-338-1088
Catherine Macfee Interior Design 530-584-5000

Photo by Gibeon Photography
High Camp Home 530-582-6866
July 2018, page 118 or A Ski Cabin Makes a Backcountry Comeback

Photo by Kat Alves
Interior Design by Julie Johnson Holland 530-587-3015
Nov./Dec.2018, page 148 or Inside-Out Harmony

Photo by Gibeon Photography
Sarah Jones 415-509-7044
August 2018, page 126 or A Tranquil-Yet-Dramatic Lake Tahoe Home

Photo by Jeff McLain
Scott Corridan Design 530-388-0214
Aug. 2016, page 124 or A Sophisticated Sanctuary in Incline Village, Nevada
TAL Studio 702-888-5000
Mammoth Lakes
INTERIOR DESIGN:
Brown Design Group 760-934-5545
UTAH
Park City/Deer Valley/Salt Lake City
ARCHITECTS:
Bridgwater Consulting Group 435-333-4580
Costantino Grandjacquet Architect 435-655-3811
Jaffa Group 435-615-6873
Lloyd Architects 801-328-3245
Otto/Walker Architects 435-649-6373
Park City Architecture 435-649-7601

Photo by Derek Israelsen Photography
Sparano + Mooney Architecture 801-746-0234
August 2018, page 160 or This Park City Home Was Built to Rigorous Standards

Photo by David Livingston
Upwall Design Architects 801-485-0708
Nov./Dec. 2018, page 157 or A Surprise for the Eye in Deer Valley
INTERIOR DESIGNERS:
Alder & Tweed 435-487-9270

Photo by David Livingston
AMB Designs 801-272-8680
Nov./Dec. 2018, page 157 or A Surprise for the Eye in Deer Valley

Photo by Ryan Garvin
Barclay Butera Interiors 435-649-5540
July 2018, page 42 or Rule-Defying Design

Photo by Audrey Hall
Denton House Design Studio 801-333-8156
Sept./Oct. 2018, page 116 or These 4 Powder Rooms Pack a Design Punch

Photo by Derek Israelsen Photography
J Squared Interiors 435-655-5798
August 2018, page 160 or This Park City Home Was Built to Rigorous Standards
Natural Instincts Interior Design 435-731-8212
Paula Berg Design Associates 435-655-9443
Robert Kelly Home & Interior Design 435-615-7125
Root'd 435-214-7791
SRE Design 801-573-0823
WASHINGTON
Seattle
ARCHITECTS:
Bohlin Cywinski Jackson 206-256-0862
Bosworth Hoedemaker 206-545-8434
Chris Pardo Design: Elemental Architecture 206-329-1654
Cutler Anderson Architects 206-842-4710
Gelotte Homas Drivdahl 425-828-3081
Krannitz Kent Architects 206-547-8233
The Miller Hull Partnership, LLP 206-682-6837
MW Works Architecture & Design 206-352-7319
Olson Kundig Architects 206-624-5670
Prentice + Balance + Wickline Architects 206-283-9930
SHED Architecture & Design 206-320-8700

Photo by Andrew Pogue
Stephenson Design Collective 206-632-7703
March/April 2017, page 84 or A North Cascades Escape
Studio Zerbey Architecture + Design 206-930-5147
Suyama Peterson Deguchi 206-256-0809
Bellevue
INTERIOR DESIGNERS:
Doug Rasar Interior Design, LLC 425-450-9911
Spokane
ARCHITECTS:
Uptic Studios 509-850-3698
WYOMING
Jackson/Teton Village
ARCHITECTS:

Photo by Gordon Gregory
Berlin Architects 307-733-5697
Sept./Oct. 2017, page 130 or Cowboy Chic in Jackson Hole

Photo by Ed Riddell
Carney Logan Burke Architects 307-733-4000
2018 Home of the Year Winner
Nov./Dec. 2018, page 134 or 2018 Home of the Year: Fairytale Finish

Photo by Gibeon Photography
CTA Architects Engineers 307-733-9955
August 2016, page 142 or A Dream Home in the Tetons With Mod Style
Dan Joseph Architects 307-733-3735
Design Associates Architects 307-733-3600
Dubbe Moulder Architects 307-733-9551
Dynia Architects 307-733-3766

Photo by Audrey Hall
Farmer Payne Architects 307.264.0080
May/June 2018, page 134 or An Interior Designer's Artful Jackson Home
Gyde Architects 307-733-7303
Hawtin Jorgensen Architects 307-733-4364
Vera Iconica Architecture 307-201-1642
Ward + Blake Architects 307-733-6867
INTERIOR DESIGNERS:
Agnes Bourne Studio 307-699-0708
Carney Logan Burke 307-733-4000
Designed Interiors, LLC 307-733-8582
EK Reedy Interiors 307-739-9121
FRAME design co 307-733-9893
Harker Design 307-733-5960

Photo by Gordon Gregory
Jacque Jenkins-Stireman Design 307-739-3008
Sept./Oct. 2017, page 130 or Cowboy Chic in Jackson Hole

Photo by Audrey Hall
Nanette Mattei 307-413-3898
Sept./Oct. 2016, page 146 or This Jackson Home Underwent an Artful Transformation
Shannon White Design 307-690-1594
Snake River Interiors 307-733-3005
WRJ Design Associates 307-200-4881
2018 Home of the Year Winner
Nov./Dec. 2018, page 134 or 2018 Home of the Year: Fairy-Tale Finish
CANADA
Calgary, Alberta
ARCHITECTS:

Photo by Robert Lemermeyer
Sturgess Architecture  403-263-5700
March/April 2017, page 72 or A Calgary Overlook With an Innovative Roof
ARIZONA
Phoenix
ARCHITECTS:

Photo by Audrey Hall
Will Bruder Architects 602-312-7399
May/June 2018, page 84 or An Artful Couple & Their Jackson Home
CALIFORNIA
San Francisco
INTERIOR DESIGNERS:

Photo by Matthew Millman
Martin Group San Francisco 415-374-7320
Sept./Oct. 2018, page 128 or Mountain Mixture 
St. Helena
INTERIOR DESIGNERS:

Photo by David O. Marlow
Erin Martin Design 707-963-4141
March/April 2018, page 100 or A Nearly Transparent Home in Utah
GEORGIA
ARCHITECTS:

Photo by Tina Stinson
Studio.BNA 706-510-0884
July 2018, page 150 or New Look on the Block
INTERIOR DESIGNERS:

Photo by Heidi Long
Carter Kay Interiors 404-261-8119
July 2017, page 122 or A Summer Cabin, Redefined

Photo by Whitney Kamman
Peace Design 404-237-8681
Nov./Dec. 2017, page 114 or Transparency & Light in a Montana Home
ILLINOIS
INTERIOR DESIGNERS:

Photo by David O. Marlow
Gary Lee Partners 312-640-8300
Jan./Feb. 2017, page 86 or A Sturdy Yet Delicate Wing-Roofed Home

Photo by Paul Crosby
Leslie Jones and Associates 312-455-1147
August 2017, page 92 or This Home is More Than Meets the Eye
MINNESOTA
ARCHITECTS:

Photo by Paul Crosby
Vincent James Associate Architects 612-872-6370
August 2017, page 92 or This Home is More Than Meets the Eye
PENNSYLVANIA
INTERIOR DESIGNERS:

Photo by Heidi Long
Hank Page Design Consultants 610-335-1600
Sept./Oct. 2018, page 152 or A Sun Valley Love Affair