How to Build a Blooming Bouquet Centerpiece [Video]
The experts at Lace & Lilies flower shop provide a step-by-step guide to building a blooming summer centerpiece that's the life of the party.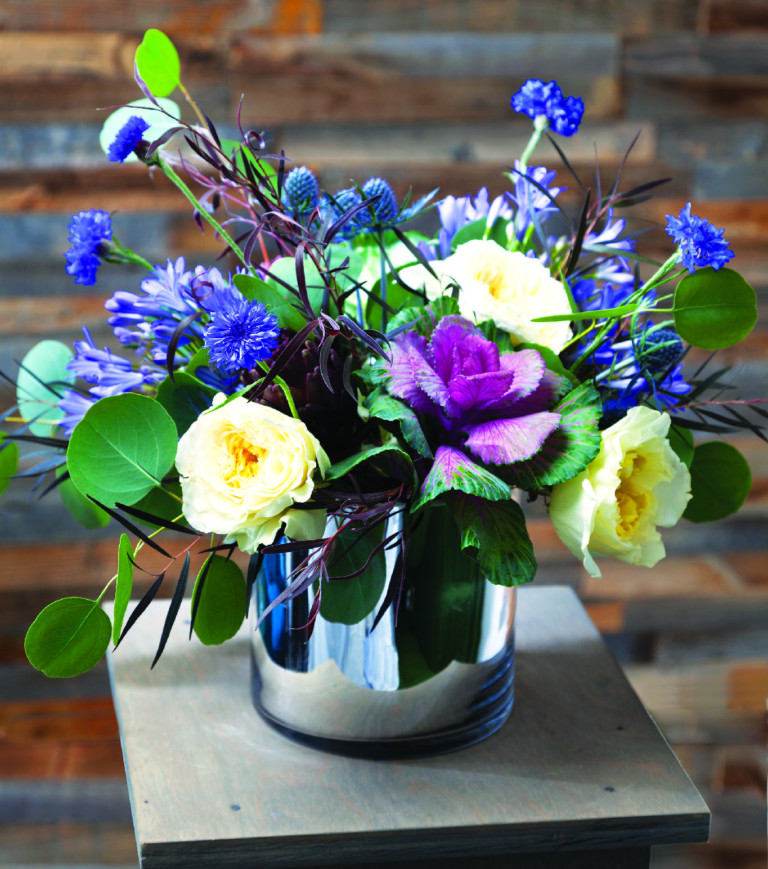 On any given day at Lace & Lilies flower shop in Fort Collins, Colorado, owners Lacey Hamel and Lis Truax can be found feverishly cutting stems and building bouquets while singing along to their indie-pop playlist and (occasionally) enjoying a glass of wine. It's this balance of passion, precision and light-hearted fun that has formed Lace & Lilies' signature style.
With backgrounds in art and fashion design, the entrepreneurs have a knack for breaking traditional style barriers. "We're pulling inspiration from fashion, culture, music, the art world, and bringing it into what we do," Hamel says. "We're not just florists. We're artists who chose this medium."
Here, Hamel and Truax show us how to capture their effortlessly chic look in a dreamy centerpiece perfect for summer get-togethers in the garden.
[Video by Vanessa De La Rosa and Sarah W. Frazier]
WHAT YOU'LL NEED:
Short, sleek vase
A shiny silver vessel  adds contrast to an earthy arrangement
White hydrangea
Enough to cover the mouth of your vessel
Burgundy kale
Look for flowering kale still attached to its stalk
Deep chocolate mini artichoke
Substitute: Mini green hydrangea
Blue cornflower
One of the few naturally blue flowers
Blue agapanthus
Substitute: Delphinium
White garden rose
Substitute: Standard rose
White peony
Substitute: White mum
Greenery
Agonis, silver dollar eucalyptus
1. Choose a vase that's short enough for guests to see over it and wide enough to hold a full bouquet. Begin by building a grid that covers the mouth of the vase to hold the flowers in place. Although this is often done with tape or styrofoam, Lacey and Lisa recommend using a natural alternative like hydrangea for a longer-lasting arrangement. Distribute at least two types of greenery—such as agonis and silver eucalyptus—throughout the vase, making sure no leaves are beneath the water line (leaves add bacteria to the water, which can kill the flowers).
2. Add some texture with unexpected elements such as flowering kale and deep chocolate artichokes. Place two of each in different spots in the centerpiece, so they function as focal points from all sides. Rest bunches of periwinkle agapanthus above the hydrangea to lighten up the deep purple palette.
3. Balance out the bunch by sticking in sprigs of spiky thistle. If you're adding three or more of one type of flower, cut stems to varying lengths to create depth. Tip: Thistle looks the same dry as it does when fresh, so set it aside for other projects before throwing out the bouquet.
4. Garden roses add a soft feminine touch—and they smell incredible, too. Before you add a few, cut the stems at an angle to allow them to soak up water in the vase. (If they're cut straight across, the ends will sit directly on the bottom of the vase, clogging the stems.) Peel off about five or six of the outer guard petals to open up the flower and make it appear fuller.
5. For the final floral component, add something whimsical. One of the only flowers with a natural indigo tint, cornflower's hue is playful and vibrant. Stagger four or five pieces throughout the arrangement for an antennae-like appearance.
6. As a finishing touch, fill any holes with the remaining pieces of agonis and silver eucalyptus. The result: a dreamy garden centerpiece sure to spark up conversation among guests.
Want to jazz up the vase, too? Check out the Quick and Easy Vase-Wrap Tutorial.